Ireland confident of making further inroads in week five at Wolverhampton
Ireland accumulated 146 points at Newcastle, thanks in part to a successful joker play on Nordic Passage in race 25 of the competition, to leapfrog London & The South (470 points) into second place.
All three teams are strong numerically across the seven races at Wolverhampton, with Wales & The West and London & The South yet to play a joker.
Ireland's team manager Kevin Blake said: "I think we have given ourselves a shot after a very good night at Newcastle, although this week needs to go just as well, if not better, to keep us in the hunt.
"I think we are in good shape with a full complement of runners – I suspect we broke the record for the number of entries from one team with 63. The support from connections was unbelievable and took a fair bit of sorting out.
"I think we have a real spread of chances, even in the nursery which has been a weak division for us this year. We have two runners in Cogsworth and Suicide Blonde, and both of them are unexposed.
"I think the 8.15pm is going to be a very important race for us. Tony Martin is sending over Belgoprince, who bolted up in the amateur Derby at Epsom last week. He is due to go up 13lb but runs here with a 5lb penalty. We also have Percy Jones in the same race who would look to have a fair chance as well.
"The three-year-old race at 6.45pm also catches the eye. Moonspirit ran well to be third at Newcastle last week, while Pjanoo was a winner for us at Windsor earlier in the competition. I would have good hopes for both of them.
"Dylan Browne McMonagle has been one of the standout riders and is back again for five rides. Then Gavin Ryan is coming over for his first stint of the competition and, with a bit of luck, Billy Loughnane might ride out his claim in the Irish colours"
"We have one joker left to play, which could be in the mix. I am sensing some weakness from Wales & The West's team manager. Jamie [Osborne] has been moaning because he was on the wrong end of a balloting issue and a horse he had lined up for months was not able to run. You couple that with Saffie [Osborne] not riding here and it just makes me think that the Welsh ship might be starting to creak.
"All in all, we are aiming to make big inroads, which should hopefully set us up for an exciting finale at Southwell. I only have two Irish-trained runners at Wolverhampton but that was very much deliberate because there was a mid-season handicap rating drop across the board in Ireland. It did not apply to this week's entries but it will apply for Southwell, so anything entered this week will be two or three pound lower next week. I was encouraging the Irish trainers to wait so we can throw everything at it."
Jamie Osborne, team manager for Wales & The West, said: "It sounds like Kevin Blake is trying to make a competition of it! In fairness, Kevin has pulled his socks up and, just with the way things have worked out, we are not at our strongest this week.
"On balance it could actually be the weakest squad we have put out so far, but we plan to be very strong at Southwell next week, so I am not too worried. We will have a little breather and then kick on again.
"Plenty of ours have each-way chances, although we don't have many obvious shots. I think Tiger Crusade and Lequinto in the £100,000 race would look to be our leading hopes. We need a few others to bounce back to form but it is possible that they can.
"I am not waving the white flag by any sense of the imagination. I am happy to give Kevin a false sense of security and then we will finish them off next week."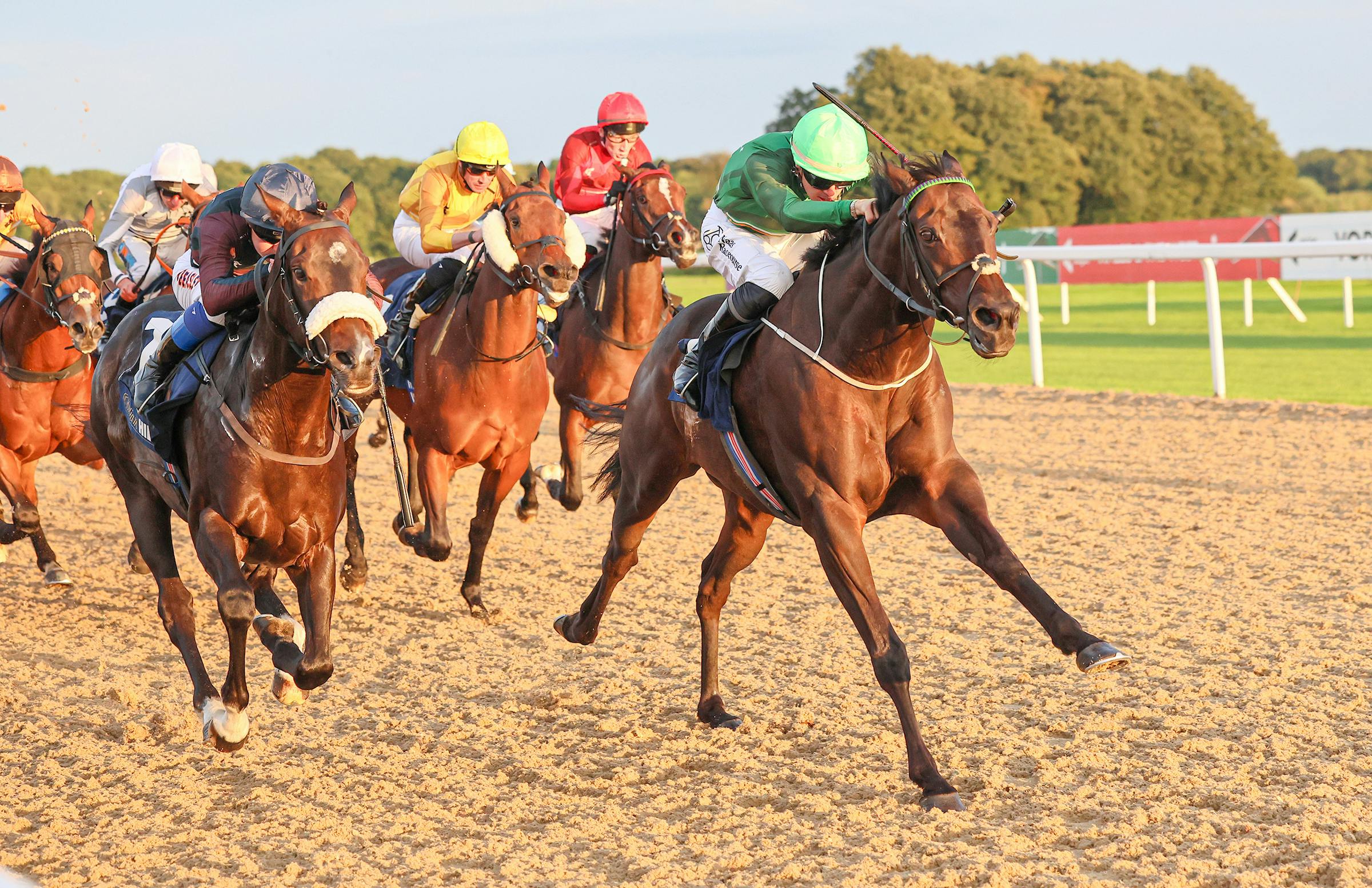 Ireland's Nordic Passage winning at Newcastle (credit: Grossick Racing Photography)