Ireland still in the hunt following night four at Newcastle
Ireland kept its Racing League dreams alive with an impressive 146-point haul in week four of the competition at Newcastle.
Kevin Blake's team has moved up to second in the standings with an overall tally of 496 points, which leaves them within striking distance of Wales & The West (568 points) with two weeks remaining.
Blake opted to play his first joker of the series in the six-furlong handicap, a decision that duly paid off as the Johnny Levins-trained Nordic Passage came home in front under Dylan Browne McMonagle.
Alligator Alley completed a double for Ireland and McMonagle in the concluding £100,000 sprint, with David O'Meara's charge setting a five-furlong track record of 57.12s.
Blake said: "I was hoping that tonight would be a big night for us. I am greedy, so you always think that it could have gone better, but we had at least one horse in each race show up really well. To have two winners is fantastic, especially playing a joker for one of them.
"I would not have been hiding my confidence coming here and could not believe the price [8/1] Nordic Passage was. I am not trying to be smart, but he was so well-in after finishing second last week – the Irish handicapper gave him 7lb but he got to run here off his old mark. I thought the market was a bit disrespectful of him. Johnny has them booming. He thinks very deeply about his horses. When he says the horse is 'bouncing', you would be an eejit not to listen.
"Alligator Alley looked to have a huge form chance on his run at York last week. I did not dream that he would be as forward as he was – he jumped too well – but Dylan was confident enough to sit and sit. He is a class horse and I know him well from when Joseph O'Brien had him. He has loads of ability but is not the easiest and David has done a fantastic job with him. I am pleased David has had a winner because I upset him in the week by not running one that he was really keen to run, so I am delighted he has won a big one!"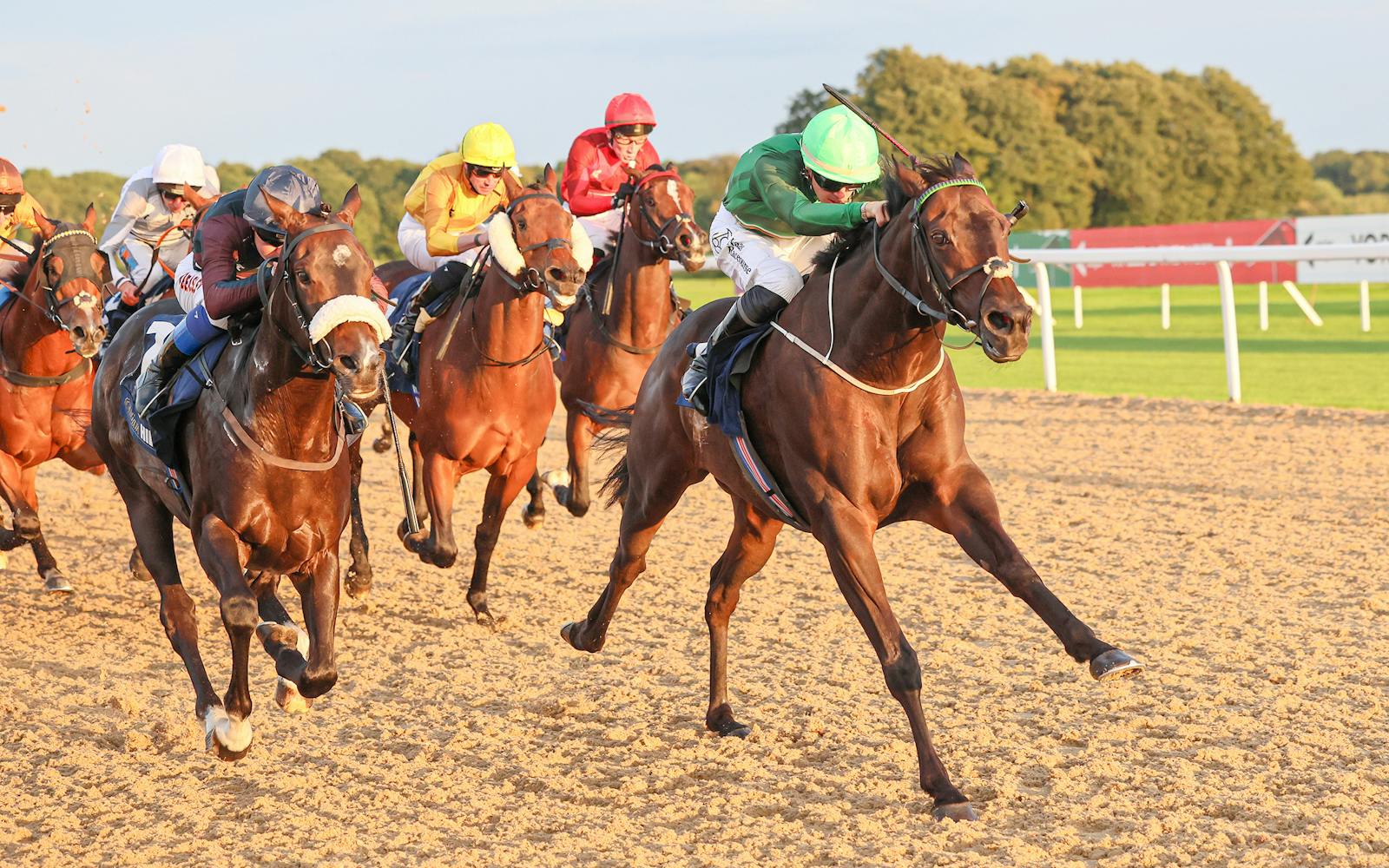 Nordic Passage wins for Team Ireland (credit: Grossick Racing Photography)
The East, managed by Frankie Dettori, also sent out two winners. Glenister landed the extended 12-furlong handicap for Sir Mark Prescott and Luke Morris, while the Simon Pearce-trained Storm Catcher is set to head for the Cambridgeshire after taking the 10-furlong handicap under Jack Mitchell.
Storm Catcher's co-owner Eric Jones said: "We were hopeful because Storm Catcher is very consistent and has been running in some nice races. We brought him here as a prep for the Cambridgeshire. We have some family here who are local, while we have driven up from Kettering, so it has worked out well. Simon is a great, young trainer. He has had some good winners for us and this horse is going to be good for him. He deserves it because he puts in a lot of work. Myself and Nigel [Hanger] have a few horses with him and I hope more people support him in the future."
Wales & The West's Saffie Osborne continued her pursuit of back-to-back leading rider titles with a seventh win of the competition on Billy Mill in the seven-furlong handicap, a horse she also guided to victory on a memorable final night last year.
Commenting on her team's performance so far, she said: "Full credit to dad [Jamie Osborne, team manager]. I was in the car with him on the way to the sales on Monday, listening to all the stuff he goes through with the trainers, jockeys and jockeys' agents. He has done a stellar job organising while keeping everyone enthused and on side. Our team of trainers and owners have been so good, putting in lots of horses for us to run, and dad has done a fair job trying to keep everyone happy."
The purple colours of London & The South were in the winner's enclosure courtesy of Helm Rock in the mile handicap for Daniel & Claire Kubler, almost a year on from his previous win at Haydock Park.
Winning jockey Rossa Ryan said: "Daniel and Claire's horses have been in great form of late. Helm Rock has been dropping in recently and seemed to be enjoying it. The handicapper gave him a chance back down to his last winning mark, so the signs were there, it was just how the race would pan out. Fortunately, we went a good gallop the whole way and the further we went, the better I was travelling."
Elsewhere on the card, imposing filly Buttercross Flyer made all in the seven-furlong nursery to give Yorkshire trainer Craig Lidster his first Racing League success from his first runner.
Lidster said: "Buttercross Flyer is a big filly with a massive stride – that is her main weapon. To be fair, last time at Newmarket the ground was far too quick for her, whereas today on a galloping track it has all fallen into place. Jimmy [Sullivan, jockey] gave her a brilliant ride and she will probably get a mile."
For full race results, league tables and lots more see the brilliant Racing League microsite from our partners AtTheRaces
See all the week 4 race replay videos:
(refresh page here to load embedded Twitter posts)
Race 22
Race 23
Race 24
Race 25
Race 26
Race 27
Race 28