My name is Harry Haskell, I'm nineteen years old and this is how I fell in love with horse racing.
I'm from Devon, I'm lucky enough to have a fantastic racecourse right on my doorstep. My family have always been interested in horse racing, so I'd been a fair bit to Newton Abbot (my local track) with my Dad and Grandad. They've always been avid racing fans, so I've been around racing for as long as I can remember.
My serious infatuation with racing began with one race in particular. This might be surprising to "hardcore" racing fans as, with most people I know, their passion began with; The Grand National, The Epsom Derby, The Cheltenham Gold Cup, the list goes on. Or maybe you fell in love with a high-profile horse; Nijinsky, Kauto Star, Frankel, Tiger Roll etc?
My story? I was sick. I was still in school, and I had an awful bug. So, I was off school during Royal Ascot of 2015 (great timing looking back!). I was in bed and I turned on the TV, the race I was watching the build up to was The Queen Mary Stakes.
I tuned in as the horses were parading around the paddock. One horse really blew me away. Her name was Acapulco. She was a huge, beautiful American filly with the most eye-catching headgear. At the time, she was trained by Wesley Ward.
His stable use headgear with his initials and the design is very much akin to the "Wonder Woman" logo. Now, to a passive racing fan like me at the time, this had really piqued my interest. I immediately wanted her to run well. A massive horse with such standout headgear, now why wouldn't I want to cheer her home?!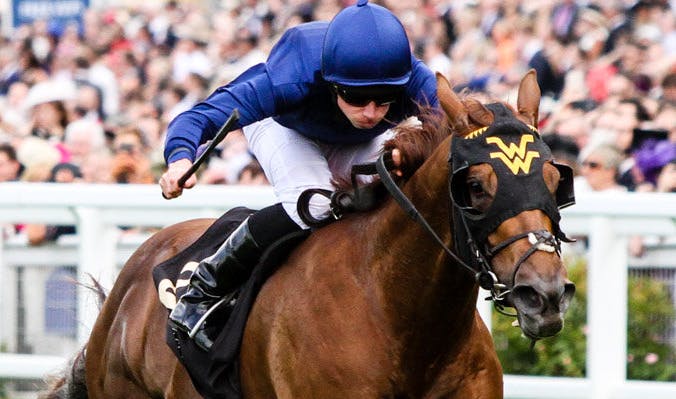 Acapulco with recognisable 'WW' branding - Image by Liesl King
The race was five furlongs, the minimum distance in the UK. Acapulco showed tremendous speed, she tore the other horses apart and won comfortably. This gargantuan, transatlantic raider couldn't help but capture me. That night, I went to sleep with two bugs; the racing bug had now well and truly bitten me.
After this, I decided I'd watch some memorable older races, recommended by my Dad. Moscow Flyer's Tingle Creek, I'd have loved to have been there! The crowd roaring him up the Sandown hill was just spine tingling. I watched more and more racing replays, I exhausted YouTube! I just couldn't get enough.
Racing has the most unique power to unite people like no other sport.
I've met lots of likeminded folks and I've formed some really strong relationships, with these magnificent horses at the very core. Horse racing has so many exciting stories and there's more to the sport than just the racing itself. Sharing opinions with friends, following trainers, jockeys or most obviously the horses throughout their career.
Even if you're not a hardcore fan, a day at the races can give you so many great memories. We have a brilliant community. No matter your background, you can always enjoy racing.
This is how I became a dedicated racing fan. After almost six very memorable years, my love and passion for our brilliant sport grows every single day.
Thanks a million, Acapulco.