Racing League 2022 Fixtures Confirmed
Following a successful launch in 2021, Racing League returns in 2022, with six confirmed Thursday evening fixtures during August and September and over £2 million committed to prize money.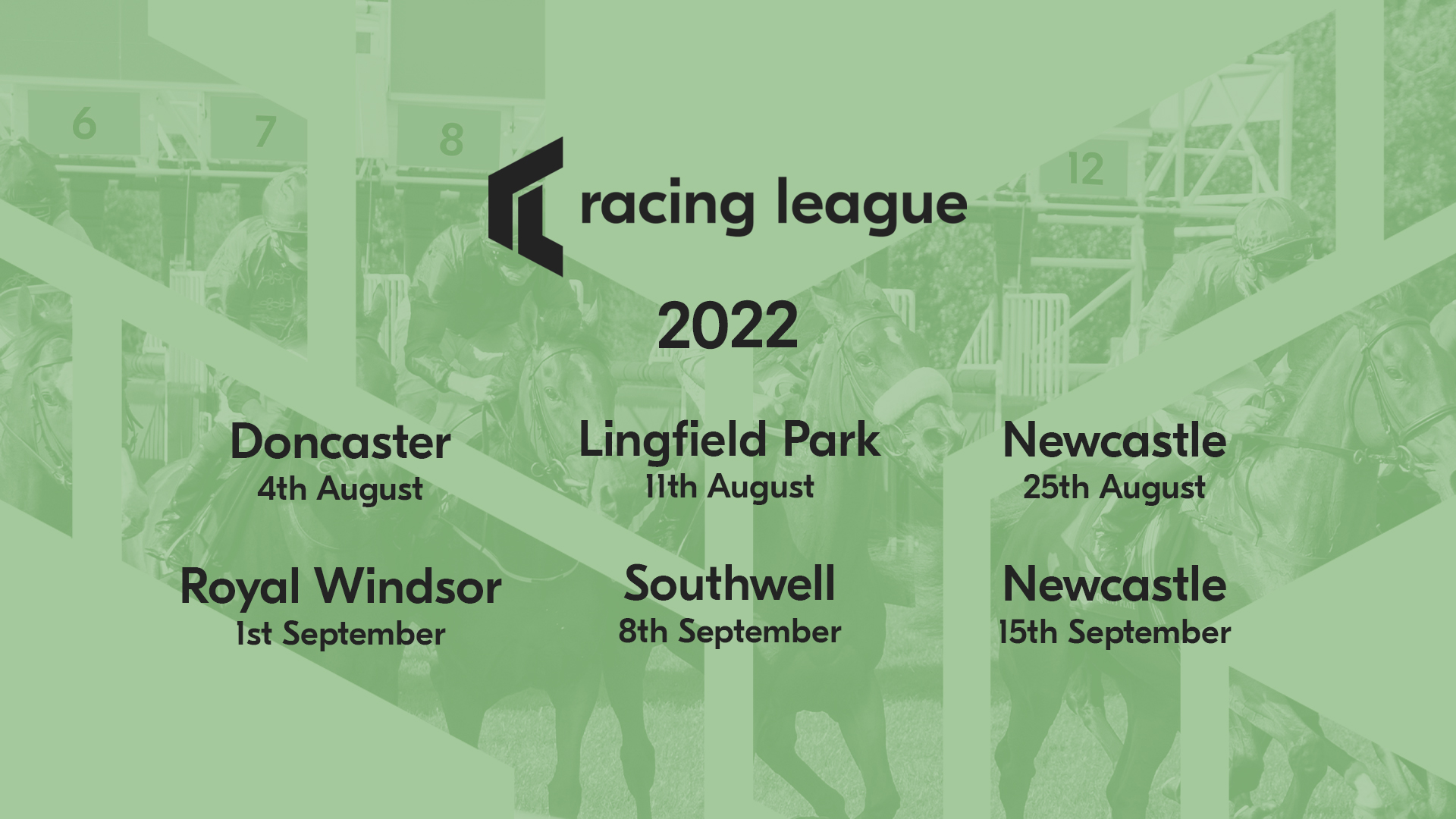 All licenced racehorse trainers from the UK and Ireland are invited to register their interest to represent one of seven regional teams competing in next year's competition. These regional teams, Ireland, Scotland, Yorkshire, The North, The East, Wales & The West and London & The South will be represented by two runners in each race across the six Racing League fixtures. Final teams will be announced in January. 
All trainers interested in participating should contact trainers@racingleague.uk prior to the 31 December deadline.
Racing League fixtures in 2022 will take place at Doncaster, Lingfield Park, Newcastle, Royal Windsor and Southwell racecourses.  The final two meetings of the 2022 competition, at Southwell and Newcastle, will be held under lights.
Race Week 1 - Doncaster - 4th August - buy tickets
Race Week 2 - Lingfield Park - 11th August - buy tickets
Race Week 3 - Newcastle - 25th August - buy tickets
Race Week 4 - Windsor - 1st September - buy tickets
Race Week 5 - Southwell - 8th September - buy tickets
Race Week 6 - Newcastle - 15th September - buy tickets
Chief Executive of Racing League, Jeremy Wray, said, "We are delighted to announce the fixtures and prize money for the 2022 competition. Following constructive feedback from all corners of the industry we are excited to introduce new features, most notably the new regional format which was widely recommended. We hope that this will help build more opportunities for supporters to get behind and follow their teams.
"With over £2 million in prize money available we expect there to be significant interest from trainers looking to take part, and we very much looking forward to hearing from them over the coming weeks."
Racehorse trainer Richard Hannon said, "Racing League was a great initiative in 2021and our owners certainly appreciated the level of prize money on offer.  We will certainly be keen to support the League again in 2022 - let's hope that under the new format, prize money can be included in the trainers' championship"
Racehorse trainer Tim Easterby said, "We enjoyed being involved in the Racing League this year, where the significant prize money made for some very competitive racing. The new regional team format for 2022 seems a good idea and I look forward to being part of a strong Yorkshire team"