Team talkSPORT Crowned Champions of the 2021 William Hill Racing League
After six weeks of exceptional racing, which played host to 36 hotly contested races at four British racecourses, it was Team talkSPORT, who were eventually crowned champions of the 2021 William Hill Racing League following a commanding display at Newcastle Racecourse.
The team in black proudly lifted the trophy and claimed the £150,000 bonus, which will be shared by trainers Michael Bell, Roger Varian, James Fanshawe and Ed Dunlop, jockeys, Jack Mitchell, Hollie Doyle, Cieren Fallon and Ray Dawson, its dedicated stable staff, and owners.
With two race victories, one second place and a third, it was a night to remember for eToro Racing, who leapfrogged no fewer than five teams on the leader board to finish second in the standings. Team ThoroughBid wasn't able to summon its usual consistency and finished a very respectable third.
Ecstatic with his team's win, Racing Manager, Rupert Bell, commented:
"First thing's first, well played to Jack Mitchell, who's ridden all six Racing League meetings – he's an absolutely top jockey. But also well done to our trainers, who have worked really hard behind the scenes to make sure that the team was competitive. These horses running for that amount of prize money is fantastic. What a way to end – absolutely incredible. It's been great fun and I'm sure there will be one mother of a party at Fitzroy Court Stables, which I better get invited to!"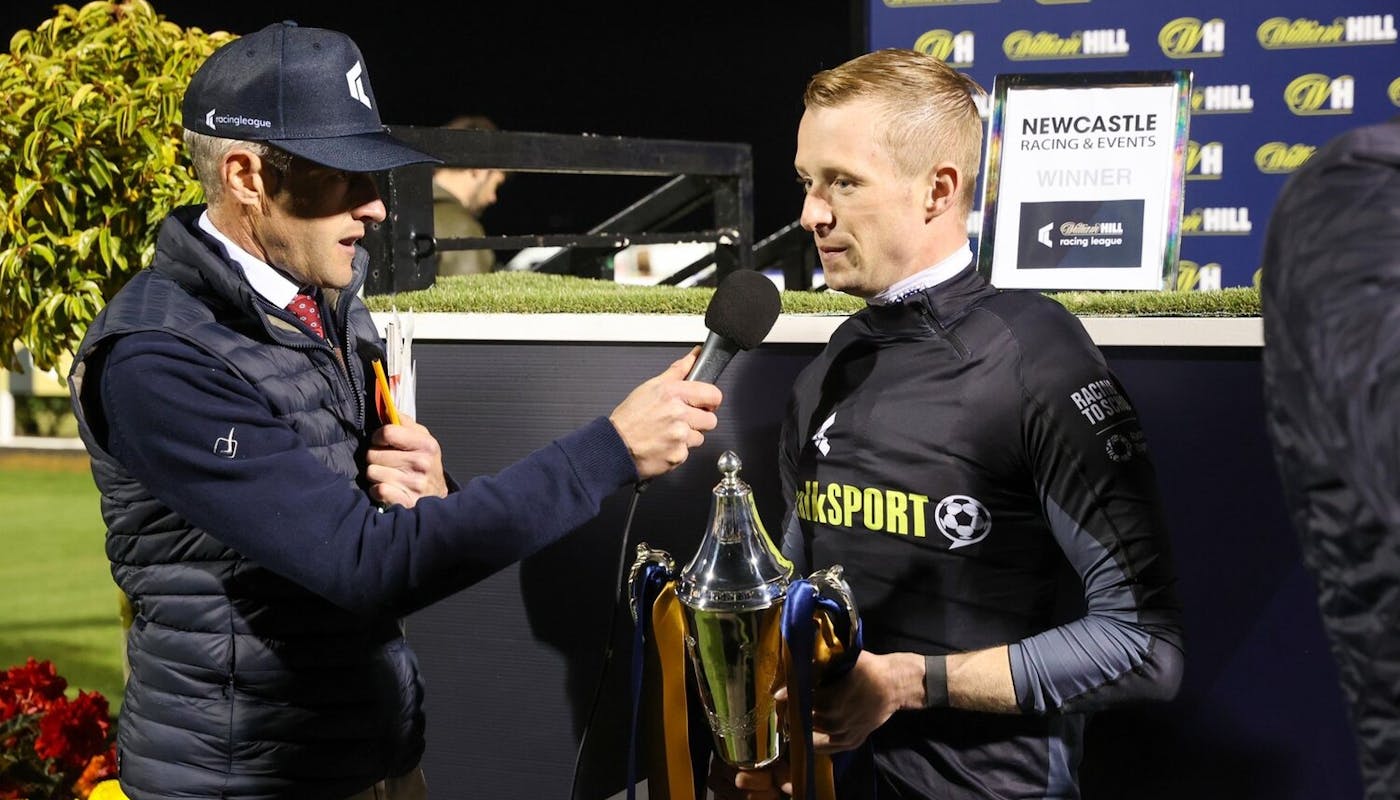 Team talkSPORT's Jack Mitchell claimed the jockeys' championship, beating Team ThoroughBid's Hayley Turner and Team Swish's Saffie Osborne into second and third places respectively, with the trio each claiming a share of the £50,000 bonus.
Mitchell rocketed to the top of the leader board following the fourth race, after two inspired first place finishes, a fourth, a fifth and a sixth were mathematically enough to secure him the title with one race still to run.
On his win, a visibly delighted Mitchell, said:
"It's amazing to win the Racing League jockeys' championship. I've had lots of fun taking part in the competition. It's something new and it's been great to be a part of it, the prize money on offer and the team concept has really worked. I've been lucky and had some nice rides for trainers who I regularly ride for, and we have managed to be consistent throughout. I'll certainly be celebrating this win!"
On the success of the William Hill Racing League's first year, CEO, Jeremy Wray, commented:
"I think we said on the first night we would judge the competition's success on how it went throughout the series, and our hope was that it would go down to the last race. The fact we had four teams in with a shout of the title, as we went into the final race of the series is fantastic, and everyone was trying and going flat out. People have really enjoyed it tonight, they are engaged, and they understand it.
"I am really pleased, Team talkSPORT is a fantastic winner - they have supported the concept from its inception. The teams that have plotted and planned their way through the last six race days have come out on top. We have so many positives to take away from our first year, and some key learnings, as well. It's a bit of fun and racing can be a team sport; the stable staff, the owners, the jockeys and the trainers all as one – it's been a great six weeks."
RACE ONE 
The finale of the William Hill Racing League kicked off with the longest distance of the evening over 1m 4½ furlongs. Second Slip for Team talkSPORT took the win by just under two lengths ahead of Team Racehorse Lotto's Khatm, with Vindolanda from Team Swish slotting into third.
RACE TWO
The second race on the card had Team talkSPORT as the one to beat, but it was Saffie Osborne and Team Swish who claimed a popular victory. Osborne was hampered by a puncture to her car and missed the first, but arrived at Newcastle just in time to keep the ride on Tregony for Clive Cox and bag maximum points. 
RACE THREE 
Team talkSPORT's Bonneval was given a beautiful ride by Jack Mitchell in the third, with eToro Racing's Degrey Boy under David Allan hot on his tail. Coming into the final furlong, the duo were neck and neck, and ultimately a winner couldn't be called, so a dead heat was the eventual decision.
RACE FOUR
Into the fourth, it was the 20/1 outsider, Firmament for Team Arena and Paul Mulrennan, who managed to come off the pace from the very back of the field and take a storming win by one and three quarter lengths over Remulate Racing's Bringitonboris.
RACE FIVE
The penultimate race of the William Hill Racing League was contested over six furlongs. Papa Stour for Team Racehorse Lotto took the lead and it looked like they would steal the show, but eToro Racing had other ideas, as Strike Red flashed past the post to win by a length.
Race Six
The final race of the William Hill Racing League over five furlongs went down to the wire. Saluti for Team Arena had been held up at the rear of the field at the start of the race but quickened nicely and kept on well to win by one and a quarter lengths, keeping Show Me Show Me out the frame for eToro Racing