Team Newmarket Red top the leaderboard
The inaugural William Hill Racing League kicked off in spectacular style at Newcastle Racecourse, as spectators turned out in their thousands to cheer on the 12 teams.
As well as some exhilarating racing, punters were treated to music from acclaimed DJs, including Amy Lauren, a variety of delicious food and drink, and a chance to rub shoulders with esteemed Sky Sports presenters, such as David 'Bumble' Lloyd, who showed his skill (or lack thereof), spinning the decks!
Six different teams won each of the William Hill Racing League Race week 1 races, and although Newmarket Red wasn't one of them, they top the league table for Week 1 with 85 points after picking up plenty of place points with three 2nds (18 pts), two 3rds (15 pts) and a 10th (1 pt).
Following closely behind in 2nd position is Team talkSPORT who notched up 78 points on the night with a valuable win in the fourth race of the evening, and with further points amassed by a 2nd, 3rd, 4th and 6th place across the card.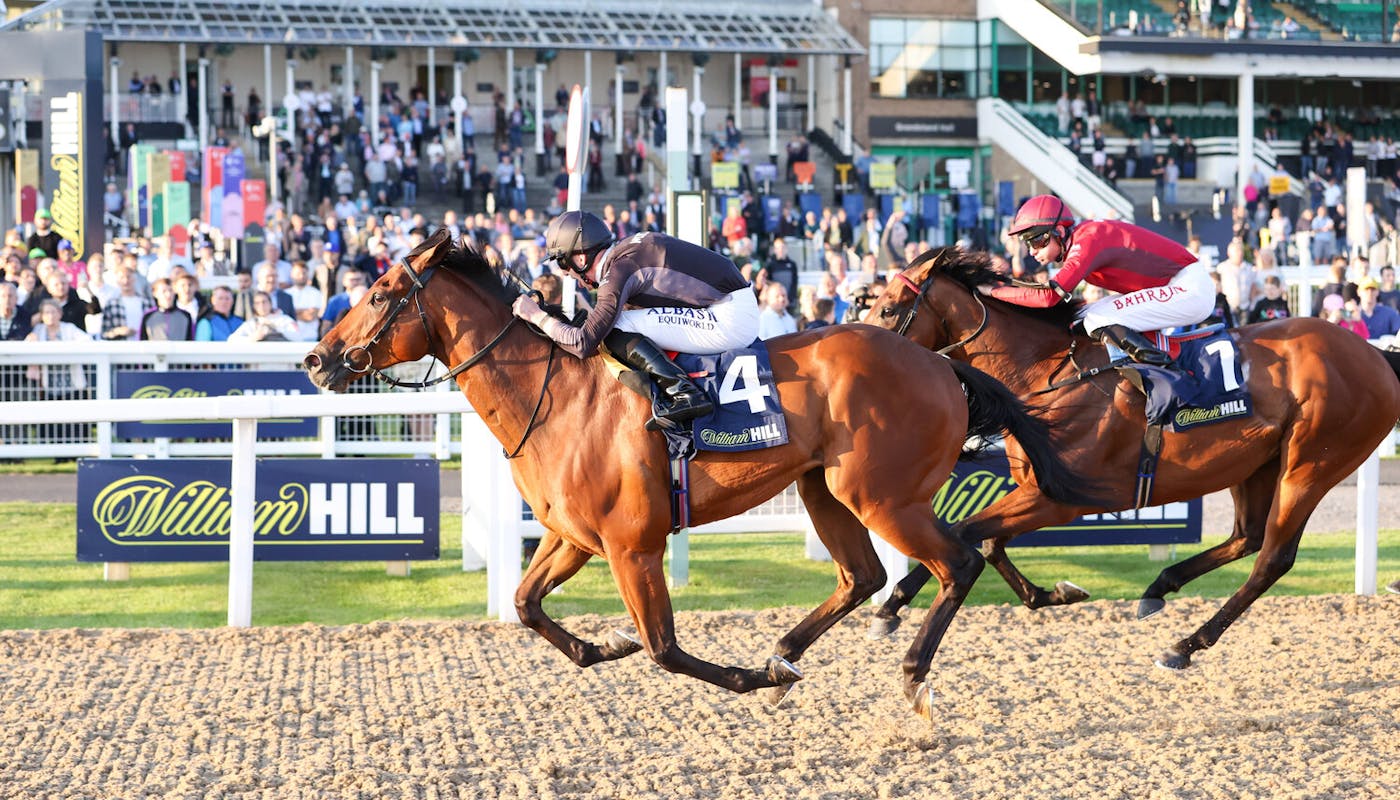 Despite having a non-runner in the fourth race, Team Racehorse Lotto have secured themselves 3rd position on the league table; with 63 points gained from a 3rd place in the opener, a 2nd place in the third race, followed by a strong strong run from Pearl Beach and Daniel Muscutt to win the final race, ending the evening on a high!
A mere 2 points separates 4th and 5th positions, with Team BullionVault on 55 pts and eToro Racing on 53 pts. Team BullionVault saw no winners on the evening but managed to grab some useful points with a 3rd, 4th, two 5ths, 7th and a 9th place, gaining the team points in every race across the card.
eToro Racing struck early on with a winner in the second race with Paddy Mathers steering Strike Red to victory, which saw them top the leaderboard briefly. Three 6th places and an 8th place followed which kept them in the top 5.
Team Arena was another Northern-based team who scored early on in the evening with a triumphant win from the back of the field in the opener with Saluti, steered to perfection by Paul Mulrennan. The 25 pts gained through that win was a handy one, as Team Arena's non-runner took them out of contention in the fourth race, with the remaining points picked up by a 4th, 6th and two 9th places, landing them in 6th position with 49 points.
Only two points behind and creeping up on Team Arena is Team ThoroughBid, who returned to the parade ring triumphant in the fifth race after team jockey Hayley Turner aboard Roscioli pushed Team Newmarket Red into yet another 2nd place position, earning Team ThoroughBid a much-needed 25 pts after scoring zero points in both the second and third races. Two 7th places and a 5th left them with 47 points for the evening.
Goat Racing got off to a solid start, scoring points from a 4th in the 2nd and an important win in the third after a superb ride by apprentice jockey Laura Pearson aboard Echo Beach. The last few races however saw them drift further down the league table after picking up fewer points from an 8th and a 9th place and earning zero points in the penultimate race.
Likewise, Team Swish started strong with 20 pts gained across the first two races with two 5th places and a valuable 3rd place in the fourth race saw them score a further 15 pts. A further 6 pts were picked up with two 8th places in the third and fifth races, totalling their points at 41.
The 10th and 11th positions are filled by Team Ireland and Team ODDSbible who were both unable to secure any winners or high point-scoring places on the night. Remulate Racing managed to find 18 pts when Charlie Bishop rode Ivatheengine into 2nd in the second race, but a non-runner in the first race and picking up only an extra three points across the rest of the card finds them in 12th position.
However, with five scintillating meetings still to be contested, it really is all to play for, with any one of the 12 teams still in with a very realistic shout of becoming the William Hill Racing League champions.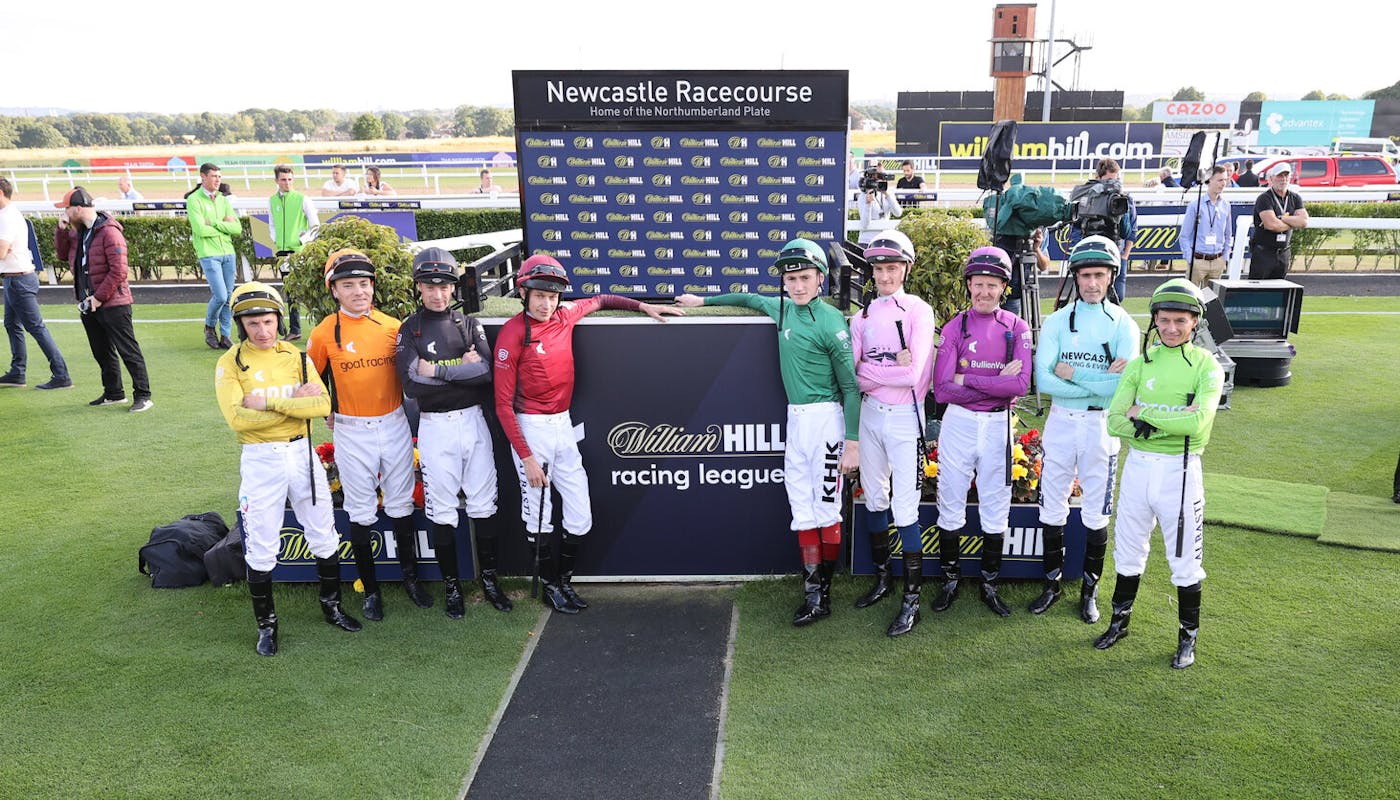 23 jockeys got the leg up for the inaugural William Hill Racing League meeting, sporting custom made team jerseys with their names adorned on the back;
Hayley Turner (Team ThoroughBid), Pat Cograve (Team BullionVault), Paddy Mathers (eToro Racing), David Allan (eToro Racing), Ella McCain (eToro Racing), Laura Pearson (Goat Racing), Callum Shepherd (Goat Racing), Louis Steward (Goat Racing), P J McDonald (Team ODDSbible), Trevor Whelan (Team ODDSbible), David Egan (Team Ireland), Cam Hardie (Team Arena), Paul Mulrennan (Team Arena), Saffie Osborne (Team Swish), Jack Mitchell (Team talkSPORT), Charlie Bishop (Remulate Racing), Nicola Currie (Team Racehorse Lotto), Marco Ghiani (Team Racehorse Lotto), Daniel Muscutt (Team Racehorse Lotto), Luke Morris (Team Newmarket Red), Rab Havlin (Newmarket Red), Andrew Mullen (unattached) and Kieran O'Neill (unattached).
The current jockey leaderboard is as follows: