Where I live, I am lucky to have good transport links to three courses here in the North West with Haydock, Aintree, Chester, Bangor and Cartmel and they are racecourses that are in my blood and the DNA of my life and will continue to be despite being grounded like so many who follow racing.
One thing though which I absolutely love to do is to go and visit the courses right around the country in the hope of joining that club made up of people who have done all the courses.
To visit racecourses in other parts of the country gives you a chance to see the UK and explore towns and cities that you wouldn't necessarily see otherwise.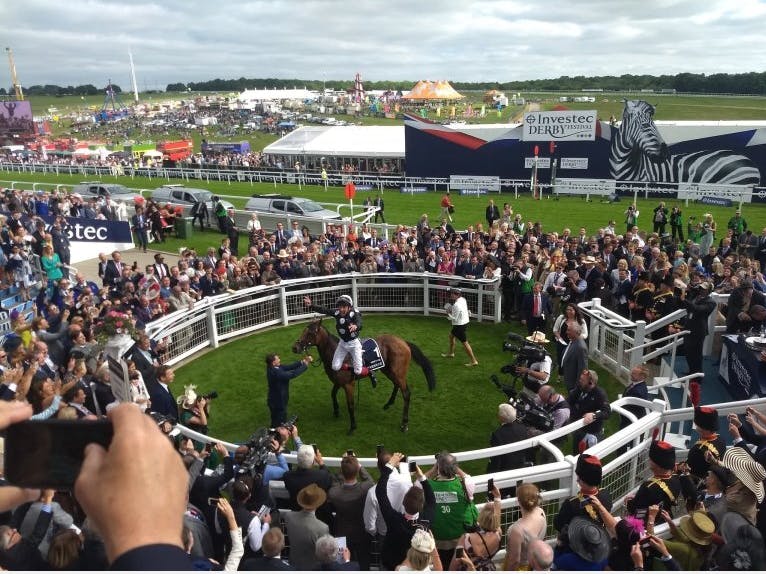 Frankie Dettori & Anapurna win the Epsom Oaks
For me, doing a visit like this at a midweek meeting feels so different than doing it at the weekend, even though you may have booked a legitimate day off from work it still feels like when you used to wag a day off when being at school and you'd take a note in from your mum saying you were "ill" when in fact you really just couldn't be bothered to go in.
Haydock Park is my local course and I've been a member for over twenty odd years and even though I always enjoy going it is the visits to other places that are always fun, I guess it's like a football fan on an awayday possibly?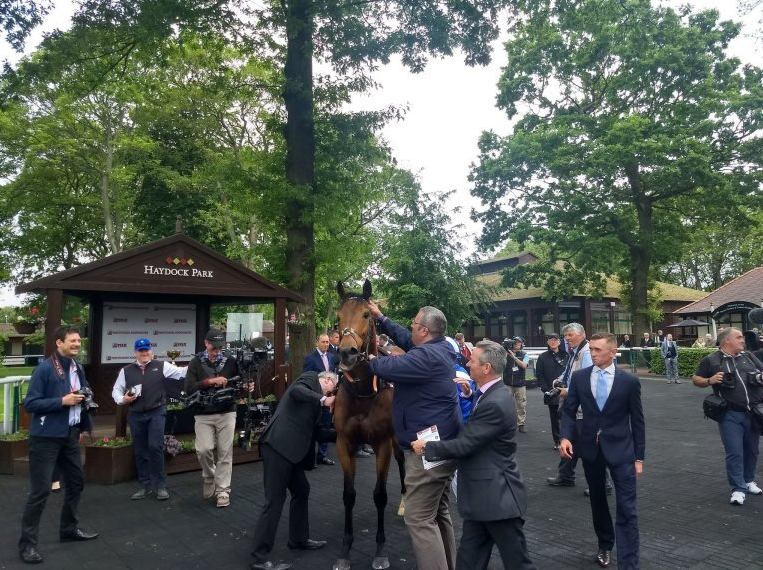 Battaash at Haydock Park
In the morning when it's so early that even the sparrows are hitting the snooze button I love getting to my local mainline stations of either Wigan or Manchester for a good breakfast and a nice perusal of the Racing Post then the anticipation of getting on a train to sit back and see the world pass me by from things like the beautiful scenery up the West Coast mainline to Carlisle or the industrial parts of the Midlands before arriving at Birmingham then changing in the city to get to Warwick and the ride from Manchester to either York or Doncaster which showcases the beauty of Yorkshire from it's market towns to it's major cities.
After racing I love to get some tea somewhere unless I pay for First Class which can include a meal and a beer for the journey back and especially in these winter evenings when travelling home in darkness which makes for an all together different atmosphere.
I've been very lucky to gone to over forty odd racecourses in the UK and seen the varying differences from the metropolitan tracks like Haydock, Sandown and Kempton, seaside courses like Brighton, Redcar and Ayr to rustic countryside places like Ludlow and Hereford which all bring their own charm and uniqueness to the racing table.
Of all the various trips that I've undertaken over the years I have three that standout purely because of the absurdity of them and the fact that they could also be done.
First up I remember doing Brighton as a day trip, this involved leaving home after 7am and getting home just before 10pm, if anything I spent more time on trains than I did on the course but it was some day at one of the most unique courses around.
Secondly was a trip to Hereford when they reopened, on the way home I booked myself on the "The Premier Service" train from Hereford to Chester which included a very tasty three course meal in the restaurant carriage with some refreshing Welsh beer, well worth a ride sometime.
Finally I did two days racing one May back in 2010 or 2011 in two different parts of the country, first of all I went all the way to Folkestone for United Hunts evening, six hunter chases on a lovely Thursday spring evening then the following day I went by train from Folkestone into London and caught another one up the East Coast mainline all the way to an evening flat meeting at Newcastle!
An interesting and weird combination but if it can be done then why not do it, that's my way of thinking.
All racing fans should make the most and try to get to as many of these courses as possible, each one is different and tells its own tale when you look at them from the stands, for me they are beautiful places and come rain or shine there is nowhere I would rather be on the planet earth than a racecourse.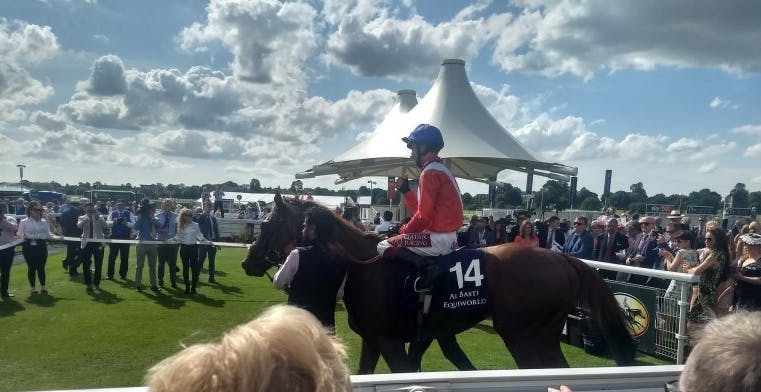 Oisin Murphy & Threat win the Gimcrack Stakes at York
To hear more travelling tales from Neil, head to his website