Jockey Fit is a High Intensity Interval Training (HIIT) concept that targets four of the key physical facets relied upon in horse racing: Quads, Cardio, Balance and Core.
The 30‐minute bodyweight workout has been created in partnership with Tom Marquand, and incorporates some of the key elements that jockeys need to train in order to keep their body at the highest standard for their sport.
The one‐off session saw attendees from across the health, fitness and lifestyle sector take part in a bespoke circuit class led by well‐known fitness expert, Hayley Madigan, with on‐site support from professional jockey, Tom Marquand.
Requiring zero equipment, the circuit consists of five stations, each targeting one of the key physical areas jockeys use in horse racing, through exercises such as jumping lunges, flutter kicks, burpees and single‐leg deadlifts.
The workout has been built to be time effective and allow people to conduct it in their own home without reliance on gym equipment. This is a fun and innovative workout that everyone can take part in.
Whether simply looking to maintain a basic level of activity or to improve specific muscle groups, Jockey Fit is suitable for everybody and can be scaled up or down according to fitness levels.
In order to compete at the highest level jockeys are required to be supremely fit, and each individual is required to pass a standardised fitness test before getting their licence. As part of the current test the jockey must hold a plank for two minutes 47 seconds and achieve level 13 in the bleep test – the equivalent to 2.62km at 14.5km/h.
As the importance of athletic fitness is increasingly recognised for performance and injury prevention the tests are subject to review and improvement. The sport continues to invest and work towards enhancing the physical and mental health and wellbeing of its participants.
"It's great to be able to raise awareness of the physical aspect of horse racing. People don't realise how physically fit and strong you have to be to race half ton animals at speeds of 40mph so hopefully this will change people's minds a bit. Away from the horses, jockeys spend a lot of time on strength and conditioning work, as in the workout and I hope people will have a go and see how they get on – it'll definitely be a challenge." (Tom Marquand, Jockey)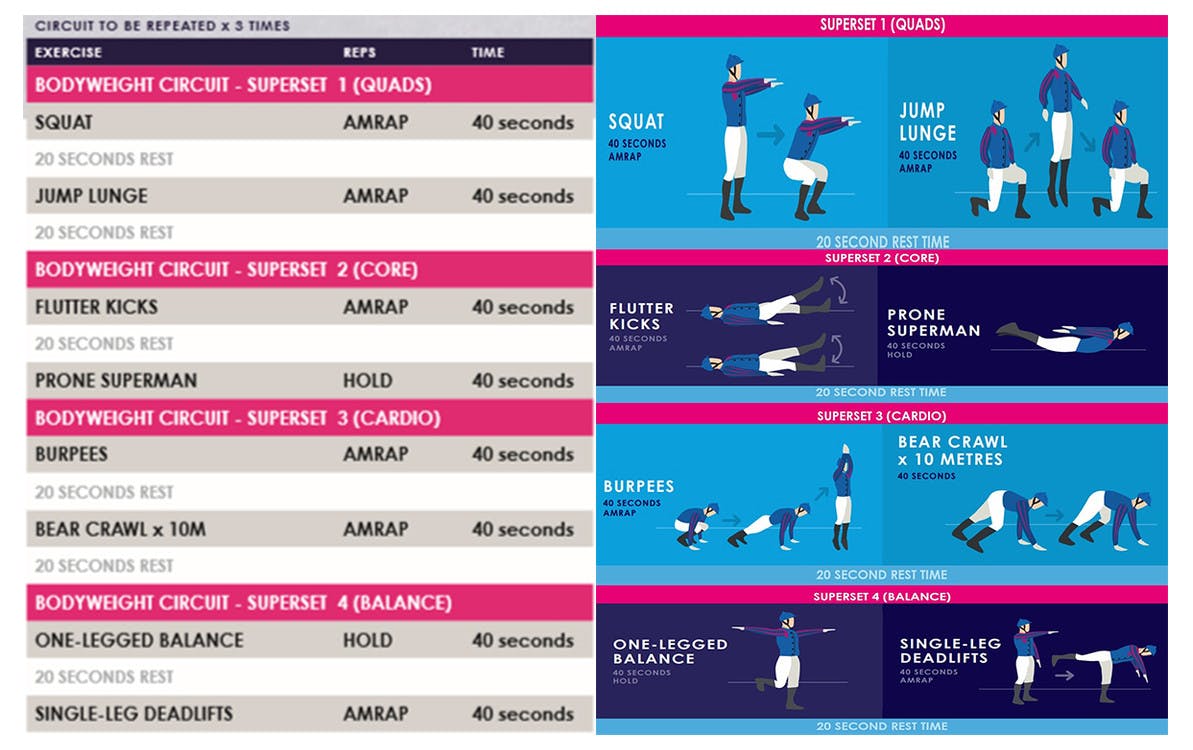 This article and the accompanying media was originally published by Great British Racing and can be found here.