When is the Racing League?
Returning to summer nights in 2024! We hope to see you at one of our 6 events starting in July.
Which racecourses will be hosting the Racing League?
Chepstow, Great Yarmouth, Newcastle, Royal Windsor, Southwell and Wolverhampton.
What will a Racing League event look like?
The racecourse will open in the afternoon so come early to enjoy all the action. Here you can immerse yourself in local entertainment and grab a bite at the food stalls. Be sure to visit the team activation zones where fans will be able to get to know the teams and meet the stars of the show.
The racing begins in the early evening and will consist of 7 races. So for those finishing work and looking for an action-packed evening and a good time, you know where to come!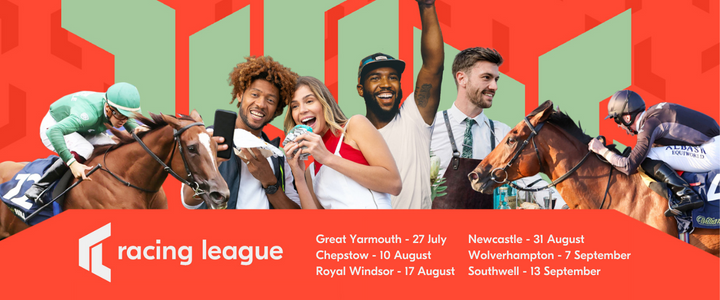 What are the race details?
Each meeting will have 7 races over a range of distances; 5 furlongs, 6 furlongs, 7 furlongs, 8 furlongs, 10 furlongs & 12 furlongs.
How does a team win the Racing League?
Each race is worth 100 points; 25 points are awarded to the winner, 18 for 2nd place, 15 for 3rd, 12 for 4th, 10 for 5th, 8 for 6th, 6 for 7th, 3 for 8th, 2 for 9th, 1 for 10th and 0 points for 11th, 12th, 13th and 14th placed horses.
The team with the highest number of points after the final race wins the league. Keep an eye on the league table #everypointmatters
What is the makeup of a team?
A team comprises a group of trainers, jockeys and a team manager all representing the region.
Teams, including jockeys, will wear team colours so that fans can recognise them at the racecourse and on TV.
We will be announcing news about the teams in the coming weeks so subscribe for updates!
What will be the focus of the Racing League?
We will be shining a spotlight on the amazing equine athletes, trainers, jockeys, training yards and stable staff and highlighting what makes racing unique.
We hope that by sharing unparalleled behind-the-scenes content of the 7 teams, we can make a once-a-year racegoer think about going one more time.
Where can I watch the Racing League?
ITV and Sky Sports Racing will broadcast every race live.
Where can I buy tickets?
Tickets are on sale now - follow the link on the menu bar