The initiative was founded by horseracing broadcaster and commentator Bobby Beevers whose personal experience with autism led him to question how the power of horseracing could be utilised to raise awareness and ultimately support anybody with autism.
Under the banner of Racing Together, the sport's community engagement collective, a collaborative support group was assembled to create and implement various roles to support Autism in Racing. The group is represented by the British Horseracing Authority (BHA), Racecourse Association (RCA), Diversity in Racing Steering Group (DiRSG), members of the racing media and includes cross-sport expertise from Arsenal Football Club, a recognised leader in this field within the football community.
With funding from the Racing Foundation and Sir Peter O'Sullevan Charitable Trust, Autism in Racing seeks to raise awareness of autism, educate racing's workforce and customers about autism and piloted autism-friendly sensory spaces on racecourses during 2021. Read more about the evaluation of the pilot year here.
Autism in Racing is a further example of the sport's desire to promote equality, diversity and inclusion at all levels.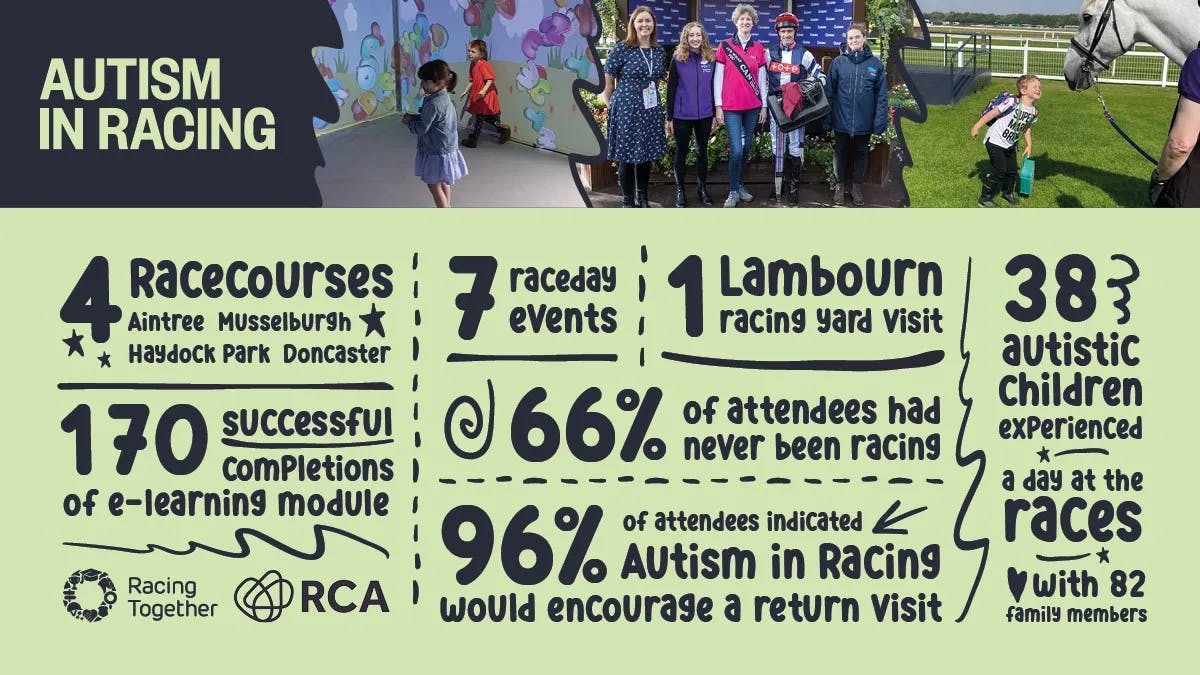 Pilot
Working alongside expert third party Immersive, autism-friendly mobile sensory spaces were piloted at four British racecourses. Doncaster, Haydock Park, Musselburgh and Aintree hosted a total of seven events on selected racedays, welcoming families with autistic children to enjoy a day's racing with the safe, sensory stimulus provided by Immersive.
The first pilot event took place successfully at the Racing League meeting at Doncaster on 5 August 2021; hear from Tim about his family's experience here.
For information on how to support and make donations to Autism in Racing click here