Ireland delivers knockout blow to Wales & The West in thrilling Southwell finale
Racing League produced another blockbuster finish as a treble saw Ireland edge out Wales & The West by seven points in the series finale at Southwell.
Having snatched the title with a three-timer on the final night last year, Wales & The West appeared to be in the driving seat, coming into the evening with a two-point advantage and both jokers still to play.
However, the momentum shifted after the third race. With a joker activated, Wales & The West only managed four points from a possible 86, a result that was compounded by Ado McGuinness' Tosen Wish taking the spoils for Ireland.
Kevin Blake's team struck again with the David O'Meara-trained Gulliver and George Boughey's Thunder Moor to open up a 48-point lead heading into the final race.
Wales & The West made things interesting with a winning joker play on Valsad for Harry & Roger Charlton, but ultimately it was to no avail with Ireland ending on 816 points and Jamie Osborne's side on 809.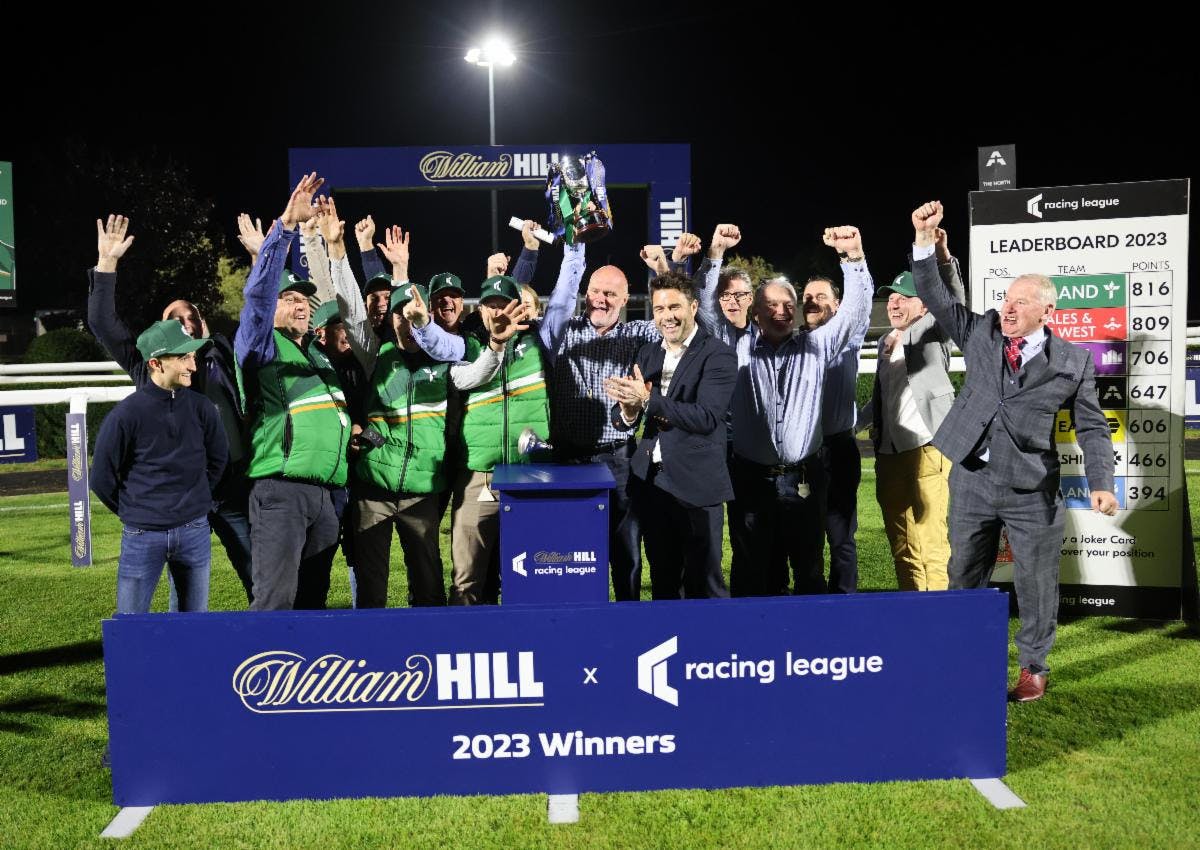 Ireland's connections with the Racing League trophy (credit: Grossick Racing Photography)
Kevin Blake said: "What a finish! I cannot quite believe that it has panned out like this. Crossing the line, me and Jamie both turned around to each other and genuinely had no idea who had won. Fair play to the lads with the scoring system, which has made it this competitive right down to the end. That was fair drama now and had me going!
"All my trainers have been brilliant and real team players. We had a great support from Irish-based trainers this year, particularly the likes of Ado McGuiness and Johnny Levins, which has helped make the difference.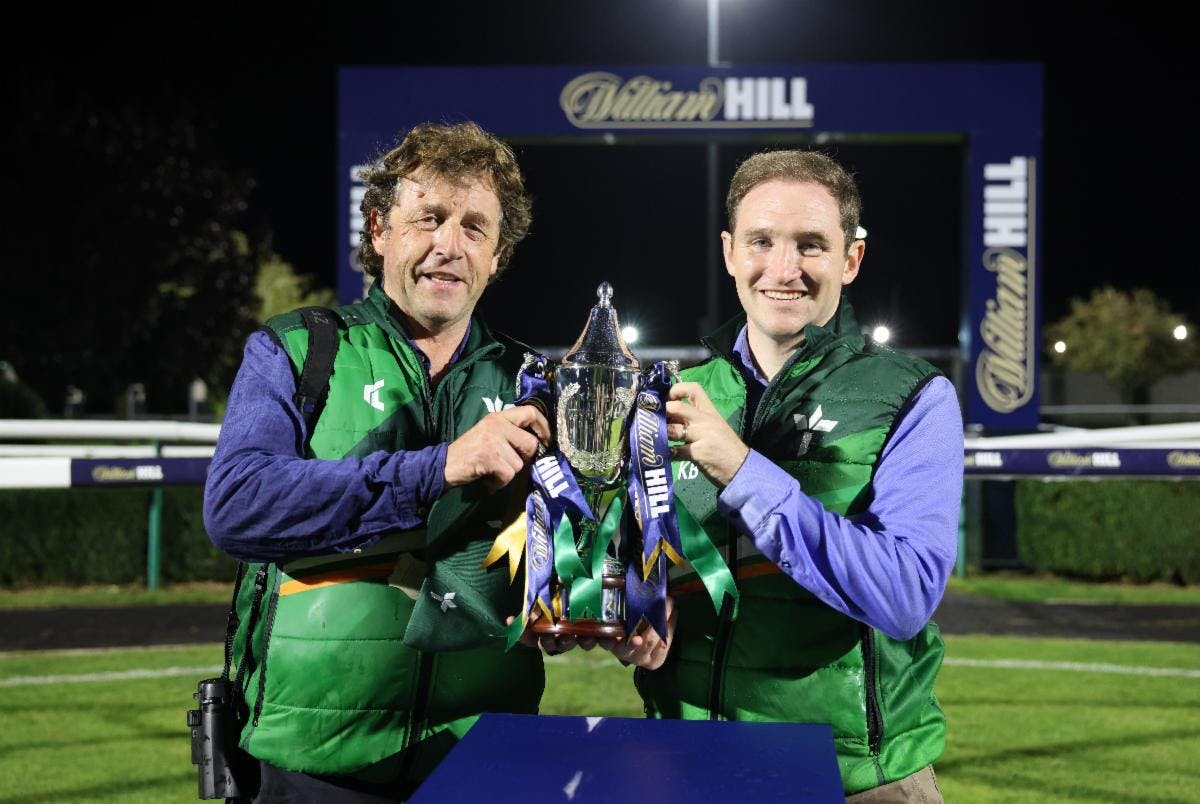 Ireland's Ado McGuinness and Kevin Blake (credit: Grossick Racing Photography)
"We had a slow start – I think we were down 120 points at the halfway mark as two out of the first three weeks did not go well. In fairness, everybody started to really get behind it and, in the last three weeks, we had over 60 entries for each meeting. We lacked that in the first two years and it was not nice turning up every week and getting a hiding.
"This is particularly sweet and, the way it panned out, I hope everybody at home enjoyed it. I am a difficult fella to get excited, but I have been jiggy about this for the past couple of weeks. When you put the hours in, it is great when it pays off."
Wales & The West's Saffie Osborne (342 points) claimed the leading rider title for the second successive year, taking home a cheque worth £20,000. In contrast to last year, Osborne topped the standings from the get-go and ended the series with eight winners from 24 rides. Ireland's Dylan Browne McMonagle (221 points) finished second, with The North's Oisin Orr (220 points) third.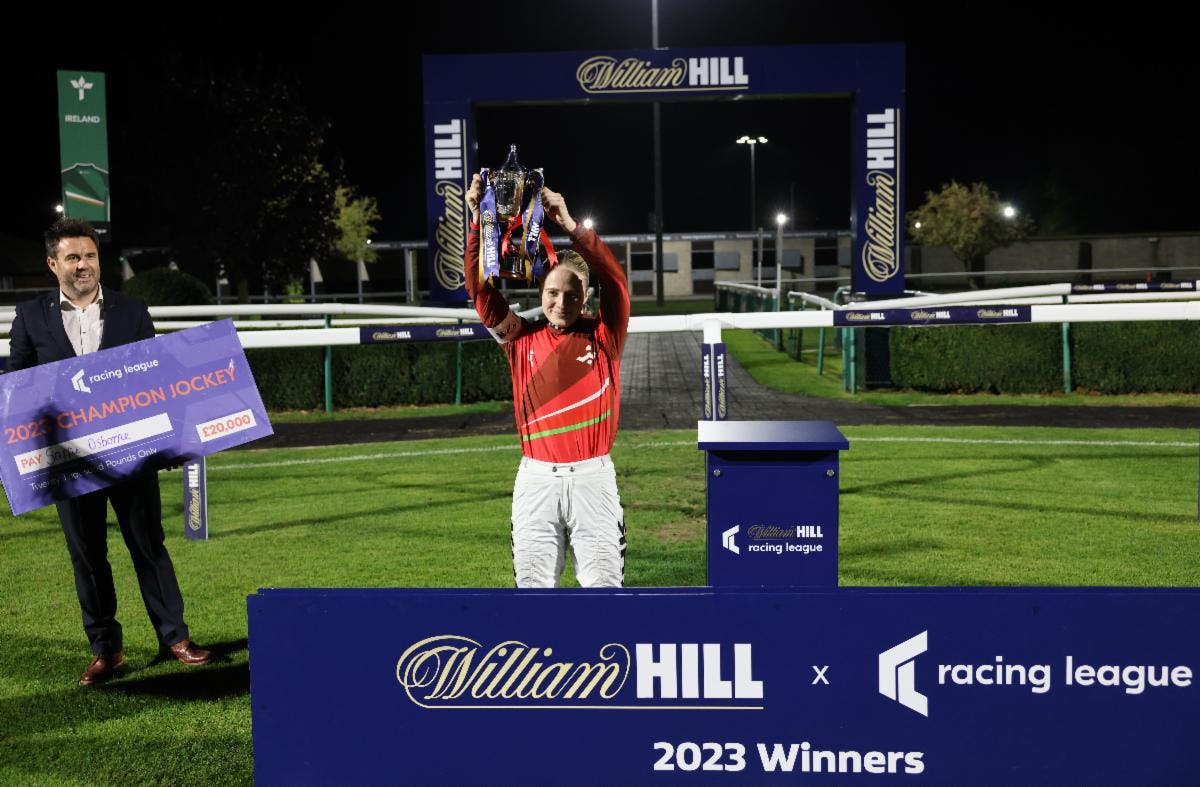 Saffie Osborne with the leading jockey trophy (credit: Grossick Racing Photography)
Osborne said: "To win the leading rider title again is great. Winning it last year was a big shock as I was so far behind going into the last night and needed some luck, whereas this year it has been the other way around after three winners at Yarmouth on the opening night.
"Racing League has been massive for me. It gets a lot of coverage and last year felt like a starting point, whereas this year it has been part of a transformative few months for my career. When you are riding with confidence, it makes a huge difference, and Racing League has done that for me."
Jeremy Wray, CEO of Racing League, said: "What a fantastic ending to the competition. We couldn't have asked for anything better than it going down to the final race. The atmosphere was brilliant and we hope everyone at home enjoyed it too. Roll on 2024!"
For full race results, league tables and lots more see the brilliant Racing League microsite from our partners AtTheRaces
See all the week 6 race replay videos:
(refresh page here to load embedded Twitter posts)
Race 36
Race 37
Race 38
Race 39
Race 40
Race 41
Race 42