Two points separate Wales & The West and Ireland with one week remaining
Wales & The West and Ireland are neck and neck in Racing League after night five at Wolverhampton, with just two points in it ahead of next week's finale at Southwell.
Having been 72 points behind Wales & The West before racing, Ireland briefly topped the leaderboard only for the defending champions to regain the lead after the final race of the night.
While Wales & The West failed to register a winner, Ireland triumphed with Koy Koy in race 32 of the series, although team manager Kevin Blake was left ruing an unsuccessful joker play two races later.
The overall points totals stand at 666 for Wales & The West and 664 for Ireland, with London & The South next best on 581 points.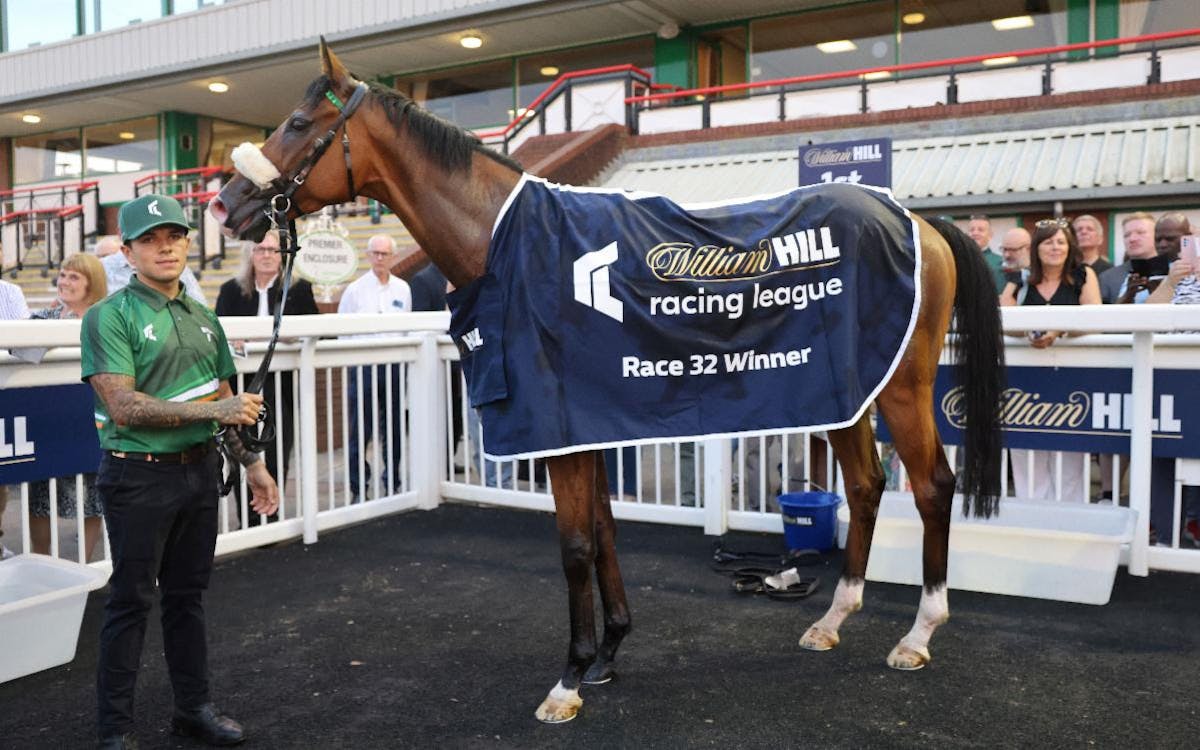 Koy Koy after winning at Wolverhampton (credit: Grossick Racing Photography)
Wales & The West clinched the title with a stunning three-timer on the final night last year and Jamie Osborne's team will still fancy their chances of a repeat outcome with two jokers still remaining.
Osborne said: "I thought it might be tough for us to stay in front tonight. We have two jokers left while Kevin has none, and we have a strong squad lined up for Southwell. I am not worried."
Blake said: "We had a good opportunity to put a pin in Jamie Osborne this evening, but if you play a joker [horses finished 4th and 5th], you need a better result than that.
"I have a good feeling about our squad for next week. I have already had a bunch of trainers phoning me to make sure they get spots for their horse, which is exactly what you want.
"If Osborne nails both of his jokers, then everyone will be in trouble, but if he scuffs one, as can happen, we will be in there battling."
Elsewhere on the card, London & The South's Sean Levey enjoyed a double aboard Minnetonka for his boss Richard Hannon and Diamond Bay for Hannon's former assistant Tom Ward.
Levey said: "Racing League is always competitive, so there is always pace on, and it is a joy to ride on the all-weather when there is pace on. Minnetonka had a little break and we thought seven furlongs was a little too far in her comeback at Kempton. This was a great opportunity to come back to six and pick up a nice pot.
"Diamond Bay jumped well today, whereas he was slowly away last time, and got into a nice rhythm. I was happy tracking the leader and just wanted him to maintain that rhythm. I would have liked the leader to have taken me even further into the straight but, once I committed, I had to get on with it."
The North was the first of two teams to play a joker successfully on the night, with Painters Palette backing up a fourth at Newcastle last week to take the extended nine-furlong handicap for Rebecca Menzies.
Menzies said: "Paula Muir does everything with Painters Palette at home and makes him look very easy. Nobody else rides him and, even when she is riding, she will come in early and make sure she gets him out. He can be tricky, but he has loads of ability. We probably have not seen the best of him yet. It is really exciting to have a Flat horse like this in the yard because usually we get them to a certain level and then they are sold."
Team Scotland rounded off the night with a winning joker play of its own as the George Baker-trained Get It captured the £100,000 finale under Paul Mulrennan.
Baker said: "Paul loved Get It when he rode him at Chepstow the other day and has given him a peach. Stepping up to six furlongs, we agreed to just let the horse roll away where he is happy. Get It has been a star for us and was brilliant in Bahrain last winter. He will be back there again this winter to get the trainer into the sunshine!"
Karl Burke and Jonny Peate combined to take the opening nursery for Yorkshire with Beyond Borders, while The East was on the scoresheet with Yeoman in the three-year-old handicap for James Fanshawe and Callum Shepherd.
Peate said: "Karl [Burke] was very positive before the race. He said Beyond Borders had been working well at home and should not be far away. He had been quite keen over seven furlongs last time, so dropping back to six furlongs looked a good fit. They went quick enough, which meant I slotted in a bit further back than I thought, but he picked up well in the straight and was only doing enough in front."
Shepherd said: "Yeoman is thriving and now three from three at Wolverhampton. It was quite messy early on and, even though I was reasonably well drawn in five, I had to take back to get in. Then the whole field nearly ran out on the bend! But they did go a good gallop, which meant they came back to him a bit at the end. He probably would not want to be in front too soon, so it was good timing."
For full race results, league tables and lots more see the brilliant Racing League microsite from our partners AtTheRaces
See all the week 5 race replay videos:
(refresh page here to load embedded Twitter posts)
Race 29
Race 30
Race 31
Race 32
Race 33
Race 34
Race 35