Wales & The West confident of extending lead on home turf
Wales & The West will be looking to consolidate its lead on home soil in week two of Racing League at Chepstow on Thursday evening, August 10.
The reigning champions sent out four winners at Great Yarmouth on the opening night to top the standings on 164 points, headed by another Saffie Osborne three-timer.
Jamie Osborne's team has 13 contenders across the seven races, including recent Goodwood scorer Executive Decision in the six-furlong handicap (6.30pm).
Jamie Osborne said: "It has not been easy for everyone given the ground factor. I think Chepstow had a bit more rain than they were anticipating on Tuesday morning, which led to a few last-minute tweaks.
"I think we have the core of a very good squad. We almost have a full house again and it is a shame we only have one in the nursery, although it looks like The East (153 points) have had a mutiny in the camp, which is always good. I think that leaves us well placed to extend our lead.
"It is always nice when I can contribute and my filly Executive Decision should be hard to beat, providing she can back up after her win last week. I also like the look of our pair in the three-year-old only handicap – Ian Williams' Gordon Grey and Roger Teal's Miss Dolly Rocker."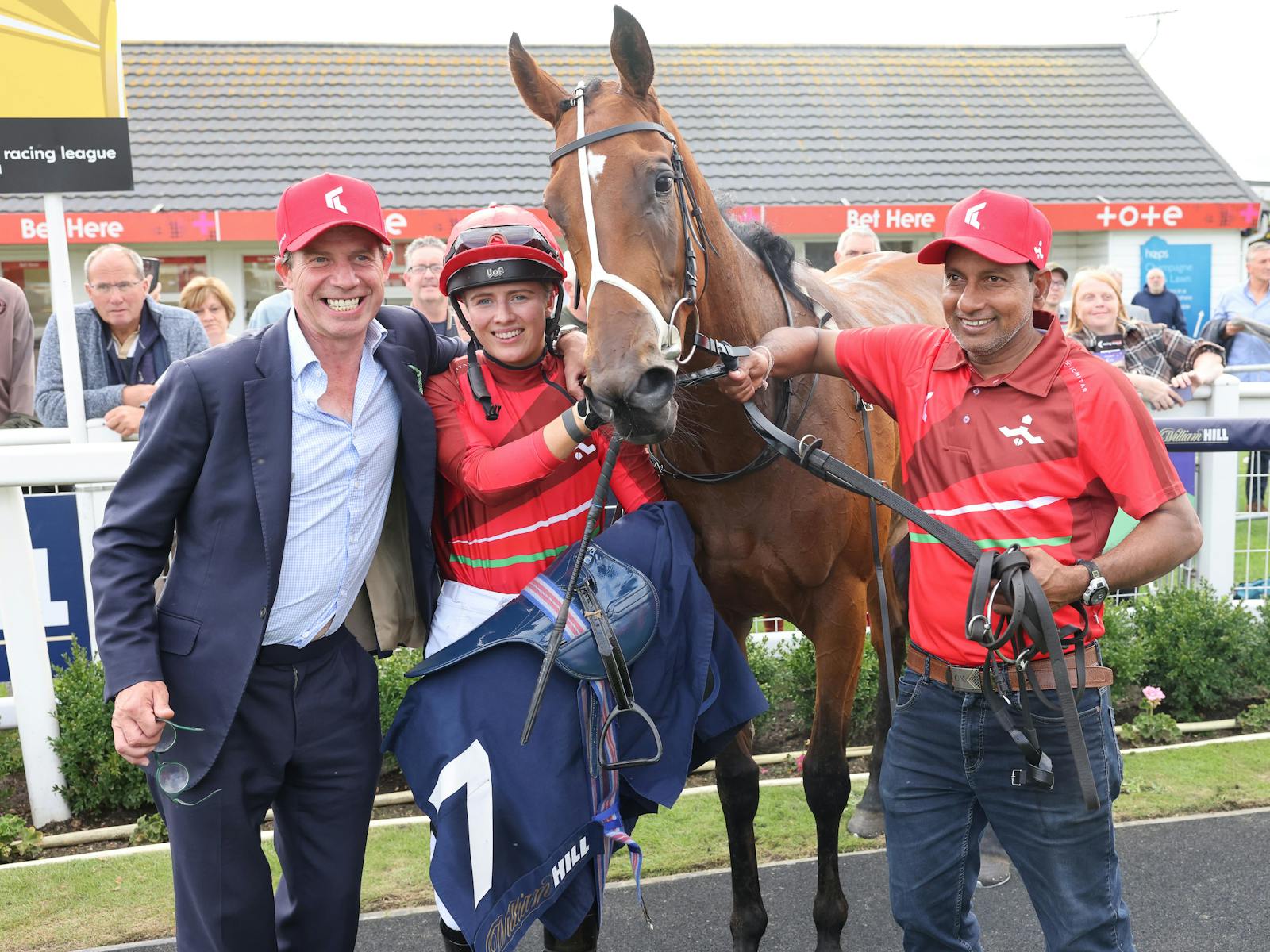 Jamie Osborne and Saffie Osborne celebrate Wales & The West's win at Great Yarmouth (credit: Grossick Photography)
The North's Richard Fahey has nine runners on the card, more than any other trainer, as he aims to propel his team up the leaderboard. Mick Quinn's side hit the crossbar on a couple of occasions at Great Yarmouth without success, leaving them fourth on 93 points.
Quinn said: "We have made a better start than last year, that's for sure. I was almost sacked after two races!
"We seemed to pick up a lot of points from halfway through last year and the draw has not been kind to us again with the first two fixtures at Yarmouth and Chepstow. I would anticipate us building strongly towards those Newcastle, Wolverhampton and Southwell meetings later in the competition.
"Two in-form trainers in Richard Fahey and Mick Appleby are providing the bulk of our runners this week. It is a team game. Those guys have stepped up this week and I am sure other trainers will step up later on.
"I think United Front will run a big race again in the first. He was just touched off at Yarmouth in a similar race and I see no reason why he should not be bang there again.
"Also, Richard's horse Ramazan in the big seven-furlong handicap. He has been running well in class two races most of the season and gets the 6lb three-year-old allowance. We'd expect him to go well."
With 13 runners across the card, Ireland will be aiming to make up ground after ending week one on 80 points. Hopes are high for Momaer, trained by Mark Loughnane, as she takes on the aforementioned Executive Decision.
Team manager Kevin Blake said: "I thought it was a respectable start from us Yarmouth. There were a couple of runners that I came away a bit rueful of. Had they got a better spin of it on the night, they would have gone very close, particularly Bernardo O'Reilly.
"We did not have a winner but the key to this competition is to keep ticking over, picking up points, and hopefully the winners will come. I think we are in good shape to do that this week with 13 runners.
"We have three individual Irish trainers coming over, which is fantastic, and a few others were keen to run as well. I kind of anticipated that once Galway was out the way, more Irish trainers would like to play, and it seems as though that will be the case.
"Momaer of Mark Loughnane's would look to have a strong chance in the third race. She was very impressive in winning last time and conditions should be OK, while Sun King goes in the opener for George Boughey after going close at Yarmouth.
"We are excited to have Dylan Browne McMonagle over for six rides. He has ridden winners in each of the first two years of Racing League and was keen to be involved again. I should also mention our wildcard selection Danny Sheehy. Adam Farragher is our light-weight jockey but we have two light-weight runners in the 100 grand race, so Danny was a last-minute booking for Loingseoir."