London & The South and Wales & The West ready for Newcastle showdown
An exciting conclusion to season two of Racing League is in prospect at Newcastle on Thursday, September 15, with London & The South leading Wales & The West by 36 points heading into the sixth and final fixture.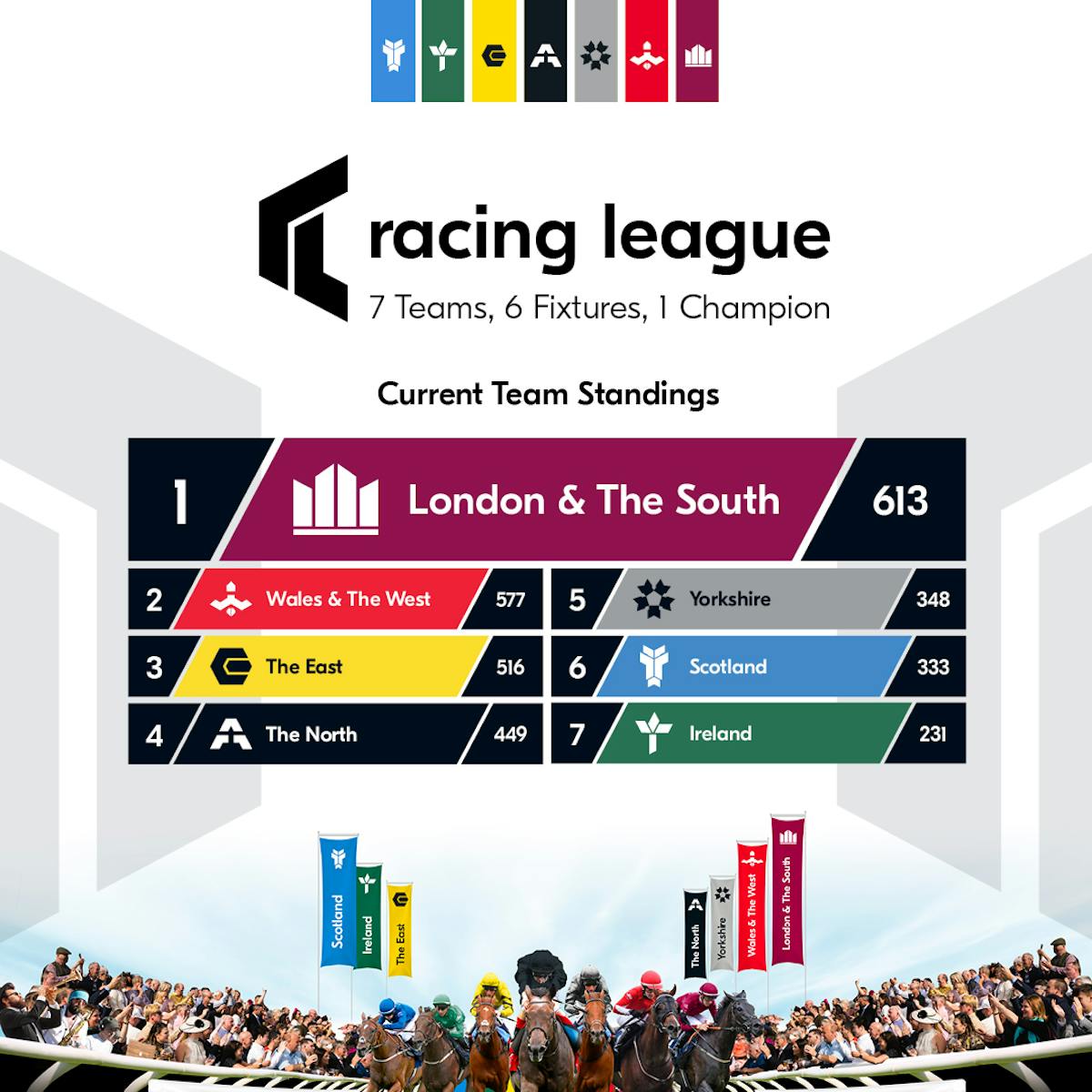 Team Standings after race week 5
London & The South (613 points) has set the pace since the opening night at Doncaster, when Matt Chapman's team made a flying start with four winners, including a treble for jockey Sean Levey.
At the close of play on night three at Newcastle, Wales & The West (577) had closed the deficit to a single point, although the gap widened again after Jamie Osborne's team endured a disappointing night at Windsor two weeks ago.
The points totals remain as they were after the opening two contests at Southwell last week, when the remaining five races were abandoned due to the passing of Her Majesty The Queen.
With all bar one of the seven races at Newcastle attracting maximum fields, there are six opportunities for teams to play jokers worth double points. Scotland (348) and Ireland (231) have yet to play a joker, while the five other teams have one remaining.
Chapman said: "We have an extremely strong team on paper going into the final night at Newcastle. However, our lead is only a narrow one with jokers still to be played.
"I am very conscious that we are not over the line yet. That said, I am desperate to hold on because I know it will haunt Jamie Osborne for the rest of his life if he has to play second or third best to me in Racing League.
"It is really important that Sean Levey is crowned the top rider because, as everyone knows, I promised him that he would be. And if we manage to hold on, it is down to all my trainers who have been simply magnificent. I emailed them all on Saturday with the runners I really wanted in each race and every single one has been declared."
Osborne said: "I think we are putting out a pretty strong squad, although I am disappointed to see that London & The South appear to be pretty strong as well.
"I am not a mathematician, but I think we need to average just over five points more than London & The South per race to beat them, which I think is plausible.
"We will be giving it our all. We have five jockeys heading up there and 14 horses. Some of them have been held back for this meeting so that we can finish with a strong squad.
"We are hopeful that we can knock the smile off Matt Chapman's face."
Sean Levey (228 points) has three rides as he closes in on the Racing League leading jockey award. His closest challenger Harrison Shaw (The North, 169 points) has two rides, while third-placed Saffie Osborne (Wales & The West, 156 points) has four mounts.