Osborne stars as Wales & The West storm to Racing League glory
Wales & The West were crowned Racing League 2022 champions thanks to a dominant performance on the closing night at Newcastle, with Saffie Osborne taking the £20,000 leading jockey award after a sensational 6,538.5/1 three-timer.
With a 36-point deficit to make up on London & The South heading into the sixth and final fixture, Osborne powered Wales & The West into pole position with three successive victories on Tregony, Raising Sand and Billy Mill.
Tregony (Clive Cox) has been a standout performer for Wales & The West this season, with tonight's success following up wins on night two at Lingfield Park and night three at Newcastle.
While Tregony was sent off the 9/2 favourite, 10-year-old Raising Sand (Jamie Osborne) and Billy Mill (Rod Millman) returned at 40/1 and 28/1 respectively in what proved hammer blows to London & The South.
Wales & The West ultimately landed the spoils in style with a final points total of 785, 93 clear of London & The South under Matt Chapman in second.
Team manager Jamie Osborne said: "We have had a good night, it is fair to say. I don't know whether it is just because we have beaten Matt Chapman, but this is one of the most satisfying results.
"We had a small, very tight team of trainers who have been brilliant through the whole competition. I managed to turn ultimately selfish animals into team players, and it has paid off.
"We have been on fumes a few of the weeks – we were really struggling to find enough horses because we aren't a big team – but everybody has risen to the challenge.
"I personally have played very few horses, so for Raising Sand to win was the icing on the cake. He is an old yard favourite and a 10-year-old winning a Racing League race is amazing.
"There were a set of circumstances tonight which meant it was mathematically possible for Saffie to become leading rider, but when you looked at her rides, it looked pretty improbable. She has proven herself now and I think she has a chance of making it as a jockey.
"Saffie is a sideshow really because this has been six weeks of trainers – the ultimate selfish animals – coming together as a team to try to beat Matt Chapman and, thankfully, we have done it.
"It was great that it came down to the final night and it could have gone either way. I need to thank my trainers and owners. I don't know how much prize money they have won exactly but it is a significant amount. Tregony for example has won over £75,000, which is incredible.
"I would like to say thank you to Racing League and ARC. I think Racing League is a competition that has legs and it needs to be on every year."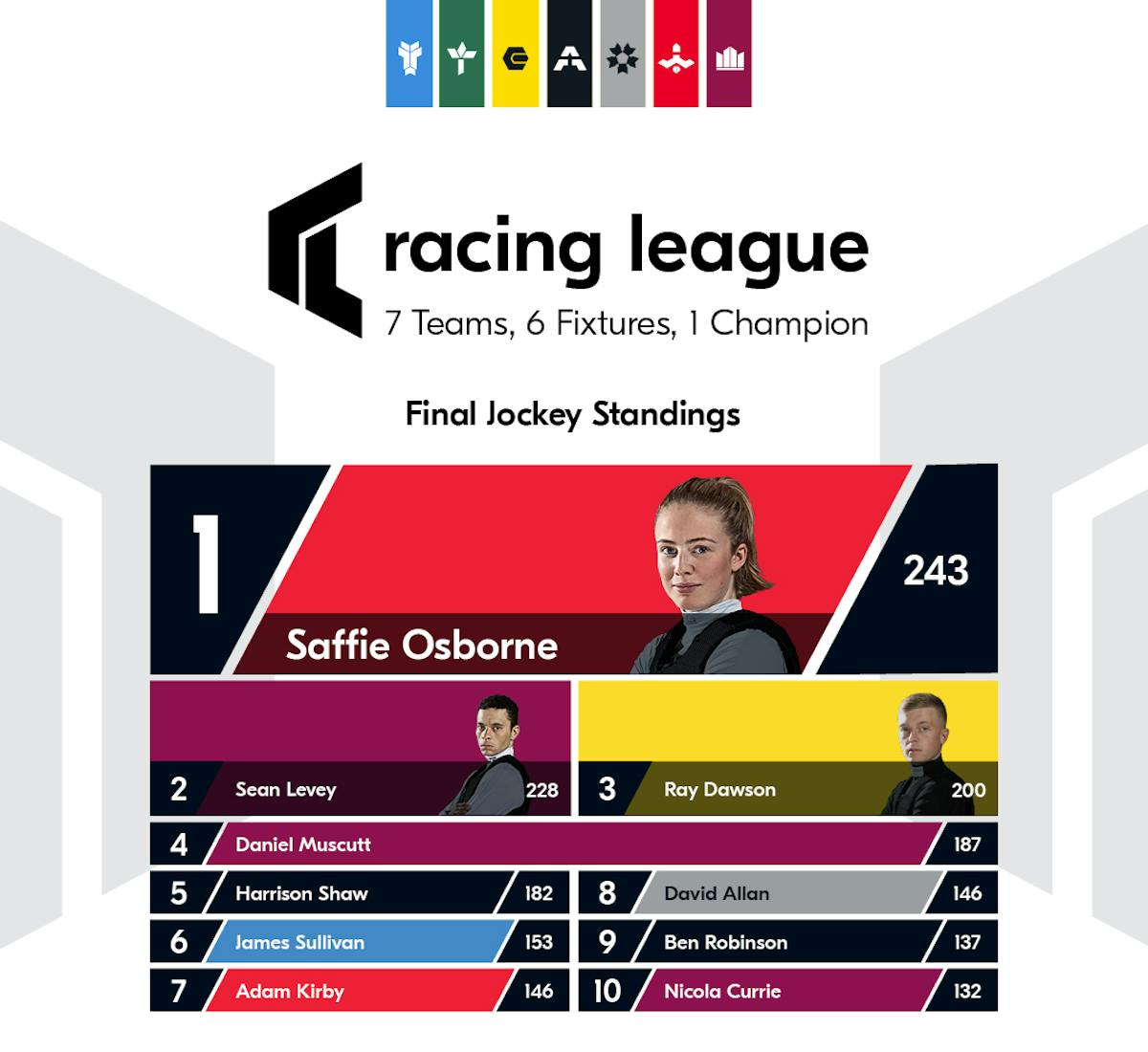 Final Jockey standings - for full race results, league tables and lots more see the brilliant Racing League microsite from our partners AtTheRaces
Saffie Osborne won the leading rider title with 243 points, having ridden five winners and two thirds from 20 rides. London & The South's Sean Levey (228 points) was second, with The East's Ray Dawson (200) third.
Saffie Osborne said: "I needed a miracle and thankfully it happened. After Sean won three on the bounce on the opening night, I thought it was game over for the rest of us. I was terrible on the first night, scoring about 20 points in total, so it is brilliant to pull it off.
"I am delighted the team won because now dad will stop talking about it. For the last six weeks, Racing League is the only thing that he has spoken to me about. Every evening at dinner, he would come in with the entries and ask what I think we should be running. The trainers and owners have been so generous with the horses they have put in and we are very grateful for their support."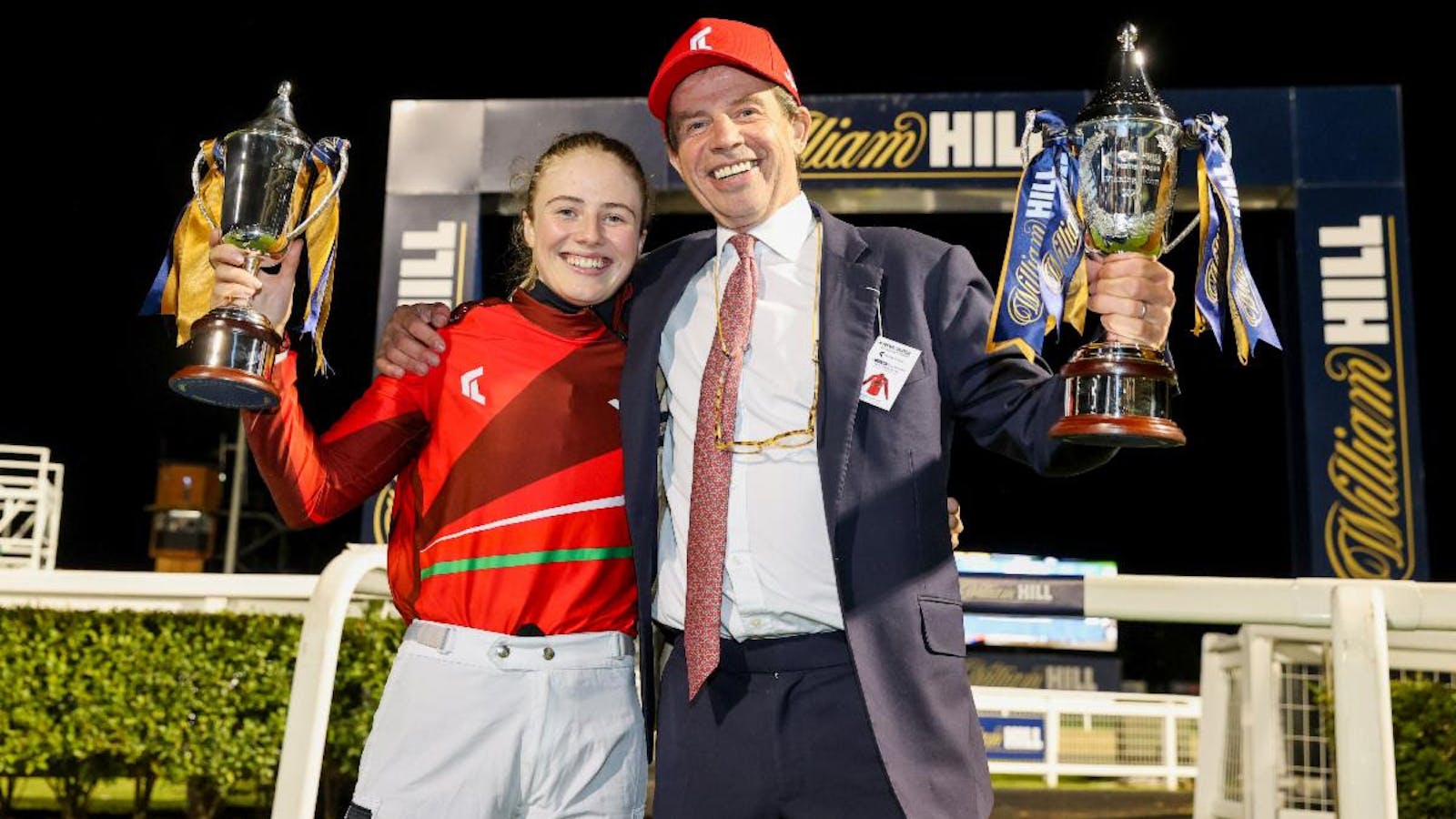 Saffie Osborne and Jamie Osborne (credit: Grossick Photograhpy)
CEO of Racing League, Jeremy Wray, said: "Racing League has taken a huge step forward in 2022, and I'd primarily like to thank all of the owners, trainers and racing staff who have made sure that we have been able to have such a strong competition this year. Congratulations, of course, to team Wales & The West and to Saffie Osborne who had such a brilliant evening at Newcastle tonight.
"As after year one, we will take stock over the coming weeks and consider all of the feedback that we have received ahead of next year's competition. Our seven team managers have done a tremendous job in working with all of their trainers, as well as maintaining a fun and engaging sense of competition, and I would like to thank them all also."
David Leyden Dunbar, ARC Director of Commercial Strategy & Partnerships, said: "We are delighted with how Racing League 2022 has gone. Congratulations to Wales & The West, to Jamie and Saffie Osborne and all of the trainers and owners who have been part of their team. We owe it to our sport to continue to embrace innovation, with the ultimate aim of engaging new audiences. We would like to thank William Hill as well as ITV and Sky Sports Racing for their continued support and now look forward to planning Racing League 2023."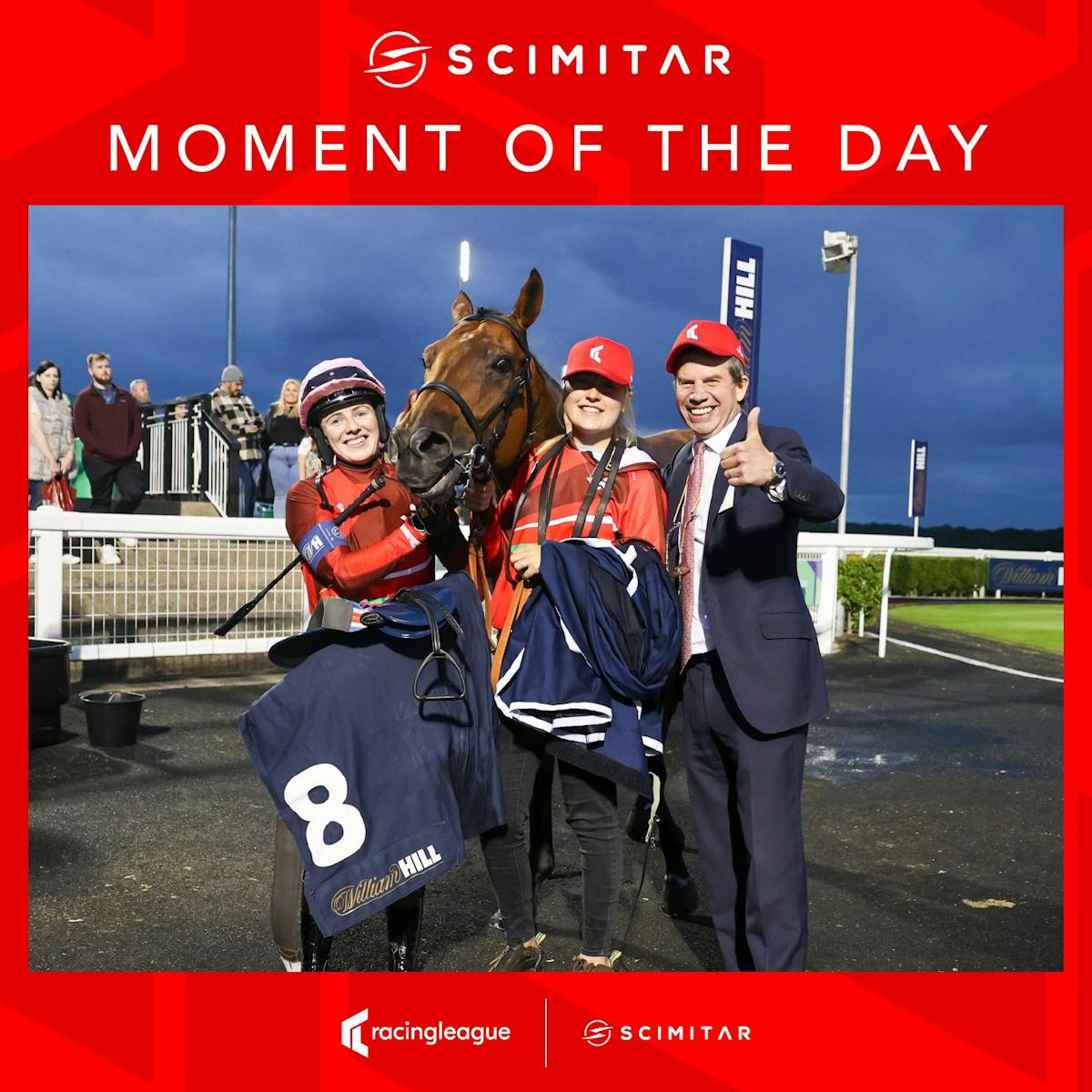 See all the week 6 race replay videos:
(refresh page here to load embedded Twitter posts)
Race 36
Race 37
Race 38
Race 39
Race 40
Race 41
Race 42
Champions